According to the International Quidditch Association (IQA), there are currently over 500 quidditch teams in 26 different countries, and in the United States, more than 100 colleges have teams. Talented college players can try out for Major League Quidditch (MLQ), which has teams in 16 cities across the US and Canada, or they can compete to play for their country at the annual World Cup, which has been held in the US, Canada, Germany, and Italy. The sport, however, had modest beginnings, and its story cannot be told without Vassar College. 
On October 25, 2007, Josselyn House Vice President Woodrow Travers '09 emailed the Vassar student body about a general interest meeting for quidditch. Travers's friends, Xander Manshel and Alex Benepe, had created the sport at Middlebury College less than a year earlier, and they urged Travers to create a team at Vassar so that Middlebury would have a collegiate opponent. Travers agreed to establish a team and then allow other students take control. About 20 students attended that first meeting in the multi-purpose room in Josselyn House, where Travers explained the rules for the newly created sport.
Quidditch is based on a fictional sport played by characters in J.K. Rowling's Harry Potter books, where wizards and witches play the game while flying around a pitch on broomsticks. In the real-life version, a quidditch team is comprised of seven players who have brooms (or broom-like objects) between their legs, although they cannot fly. Three "chasers" score goals worth 10 points each by passing the "quaffle," a volleyball, through one of their opponent's three large hoops. They can move the quaffle by running with it, passing it, or kicking it. One "keeper" per team acts as a goalie and helps his team score points. Two "beaters" on each team hit opposing players with "bludgers," dodgeballs. After being struck by a bludger, a player must touch his or her own hoop before resuming play. Finally, one "seeker" per team attempts to seize a tennis ball in a sock (a "snitch"), which hangs off the back of a neutral athlete, in order to score 30 points and end the game.
Despite the complex rules, most of the attendees at the earlier meeting came to the field in front of Josselyn House for the first practice a few days later. Travers purchased a few heavy broomsticks and balls from a nearby dollar store but was unable to find supplies to make goals. Luckily, tables, chairs, and garbage cans were left behind on "Joss Beach" after an event earlier that day. The players put tables on opposite ends of the pitch, placed three chairs on each table, and laid the garbage cans sideways on each chair to create goals.
After practicing makeshift quidditch for only a month, Vassar was invited to play Middlebury in the first-ever intercollegiate quidditch tournament, known as the World Cup, in November 2007. Middlebury's multiple teams played each other, with the winner receiving the honor of playing Vassar. Michelle Cantos '11 remembers that Middlebury's teams "had plays, and coaches in power suits on the side yelling for formation" while Vassar merely "had [a] friend's mom on the sideline who made us capes and watched our stuff for us." Vassar eventually went up against the Middlebury Mollywobbles, but there were few rules governing contact at this point and the Mollywobbles were very aggressive, pushing and shoving other players. Still, Cantos thinks of the first World Cup fondly, because "as aggressive as they were on the field, they were equally as friendly off the field."
In August of 2008, Cantos, along with Laura Riley '11 and Domino Gehred-O'Connell '11, began formalizing Vassar Quidditch, also known as "The Butterbeer Broooers." As the first official captains, the three spearheaded recruitment efforts and worked to get the team recognized as a Vassar Students' Association organization. That fall semester, Cantos, Riley and Gehred-O'Connell took the team to Middlebury again to play in the second-ever "World Cup," in which about 14 teams competed.
A year later, on November 14, 2009, Vassar Quidditch hosted its first-ever tournament, the Butterbeer Classic. SUNY Geneseo, Penn State, Stonybrook, and Chestnut Hill College came to Noyes Circle to play. Upon seeing the event, some Vassar rugby players created a makeshift team and played and lost to Vassar Quidditch. Reflecting on the tournament, David Bridgman-Packer '12, one of the captains, told the Miscellany News that quidditch is "a great equalizer between the nerdiverse and athletics…. The enjoyment isn't purely athletic. It stems from realizing you're with equally nerdy people." Bridgman-Packer and other early captains wanted to maintain this balance. While they wanted the team to play competitively, they did not want to lose the team's fun and lighthearted spirit.
That balance was tested at the fourth World Cup, held on November 18, 2010, at Middlebury College. The league had grown tremendously in size; Vassar Quidditch was one of 46 teams at the two-day tournament. Vassar started off strong, with two blowout wins against Lafayette College and St. Lawrence College. They came to the game in third place with a 5-2 record, with losses only to Harvard and Middlebury. This final game was different; the University of Pittsburgh, their opponent, had a reputation for very aggressive play. A Vassar captain told the Miscellany News that after a tournament of playing cleanly and competitively, Vassar had decided to throw the game. She explained that it "was not important enough to risk having one of our players seriously injured." Thus, the team skipped, sang, and cartwheeled throughout the match, refusing to engage with Pittsburgh's violent tactics. Many Vassar players came away from the World Cup proud that they had found a way to have fun and be competitive, without subjecting themselves to unnecessary violence or becoming too aggressive themselves. Cantos reflected that the tournament "solidified Vassar's reputation as one of the 'good teams.' A team that was, from an athletic perspective, good to play against but also didn't take themselves too seriously." 
This reputation apparently got around. In the Spring of 2011, the University of Vassa Centaurs came from Finland to play Vassar in the first-ever intercontinental quidditch match. The Centaurs were a Model United Nations club in the United States for a mock conference. However, in their free time, the group started playing quidditch and used the trip to also try out their skills with one of the sport's oldest teams. While Vassar dominated the game in Kenyon Hall, Aaron Suzuka '12 remembers that the spectators cheered when either team scored. He felt it was a great learning experience for the Vassa team and an example of how the "whimsy and spirit of quidditch" can bring people together. The match also pleased IQA director, Andrea Hill, and IQA commissioner, Alex Benepe. Both told the Miscellany News that they hoped this would be the first of many intercontinental games as quidditch spread throughout the world.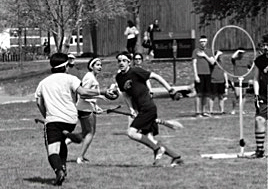 In 2012, the World Cup became a truly international competition, with countries invited to send a team to compete. The 2011 tournament was the last World Cup Vassar attended. The competition was held in Randall's Island in New York City on November 3, 2011. Ninety-four teams from 27 states and a few countries played in front of 10,000 ticketed spectators, the largest crowd the sport had ever attracted. The teams were split into 12 divisions of five, with the top three from each advancing in a single-elimination tournament. Within their division, Vassar beat NYU and Ithaca College but lost to Texas A&M and the University of Miami. This 2-2 record allowed Vassar to proceed to the next round, where they triumphed over SUNY Geneseo before their bid for the championship ended with a loss to Louisiana State University.
In 2018, Suzuka, a captain at the 2011 World Cup, declared that the "size and level of play that premiered at this tournament was indicative of where it would end up today." Vassar faced aggressive teams that took quidditch more seriously than Vassar ever had. As a result, Vassar players were injured, both at the World Cup and other tournaments held circa 2011. Suzuka himself dislocated a sternocostal joint during a 2011 World Cup game when a player thrust a lowered shoulder into his chest. Suzuka posited that the sport became more physically aggressive because "aggression equates to competitiveness which equates to legitimizing a sport." While he believed that there should have been better safety regulations, Suzuka believed the sport's increasing popularity in 2011 stemmed from the aggressiveness and physicality at which many Vassar players balked. 
While quidditch continued down the path of increased physicality, Vassar turned another way. Starting in Fall 2012, the four-team captains discussed leaving the official IQA league. Along with making the World Cup a truly international event, the IQA had created a national US competition, for which teams qualified through regional tournaments, participation in which required that teams collect fees from individual members. The captains did not want to exclude students who could not afford the cost, but the team could not afford to cover member fees and travel expenses.
Even more important to the captains were concerns about how physical the sport had become. Captain Gabby Scher '15 felt that "the Broooers were never about violence and tackling; our focus was always on being strategic and playing fun but competitive quidditch." The captains did not want to risk the team's health and core values in order to keep up with the other teams. Thus, the team did not renew its IQA membership for Fall 2013, choosing to play in lighthearted, safer, albeit unofficial tournaments instead of the IQA's more serious and more physical competitions.
Middlebury College dropped out of the official league at the same time. The first two teams felt that the official league no longer played the kind of quidditch they had started in 2007. Vassar remained an unofficial team, attending informal tournaments across the northeast and practicing three times a week on Joss Beach—with real hoops.
---
Related Articles
---
Sources
The Quidditch Post
2/3/15: Through the Hoops: Vassar, Middlebury and USQ
The Miscellany News
Vol. LXXXII, No. 7, 2 November 2007: Muggles, Mount your broomsticks: It's Quidditch Time
Vol. CXLII, No. 6, 10 October 2008: Vassar Quidditch attends Middlebury Tournament
Vol. CXLIII, No. 7, 5 November 2009: Butterbeer Brewers take to their broomsticks at Midd
Vol. CXLIV, No. 9, 18 November, 2010: Butterbeer Broooers take New York City by storm
Vol. CXLIV, No. 15, 17 February 2011: Vassar hosts first intercontinental quidditch match
Vol. CXLV, No. 7, 3 November 2011: Club teams an active part of VC sports
Vol. CXLV, No. 9, 17 November 2011: Broooers bring Vassar 'quove' to NYC
Vol. CXLV, No. 21, 19 April 2012: Quidditch captures fourth annual Butterbeer Classic
Interviews with Michelle Cantos '11, Laura Riley '11, Domino Gehred-O'Connell '11, Molly St. Clair '12, Aaron Suzuka '12, Gabby Scher '15
US Quidditch Homepage: https://www.usquidditch.org
---
SR-2, 2019