Posture photographs have become rather notorious over the years. Their fame results at least partially from Ron Rosenbaum's article, "Great Ivy League Nude Posture Photo Scandal" that appeared in The New York Times Magazine a few years ago. Even without such publicity, the idea of nude photographs taken of young men and women attending the most elite colleges in the country over a period of forty or fifty years breathes scandal. They seem mysteriously unnecessary, their purpose inscrutable. In order to understand why these colleges took these pictures, it is necessary to assess the obsession with instilling correct posture into young people in the first half of the twentieth century. At Vassar, it is therefore necessary to turn to the department of physical education.
Progressive physical education was part of Vassar's curriculum from the beginning. In 1865, Matthew Vassar hired a teacher instructed by Dio Lewis, who had helped revolutionize physical training in the latter nineteenth century. Although later instructors modified the original techniques significantly over the years, the idea that the body, like the mind, required education remained popular. Vassar therefore instituted a number of measures to teach its students how to move and stand properly.
In 1915, the college invited the American Posture League to examine and evaluate its students' postures. By 1918, a Posture Committee had been established, and held a "Tag Day" in which "policemen" tagged students who were not standing or walking correctly. In 1919, Vassar even held a posture drive that attempted to inspire students to carry themselves more correctly through paintings in art class and parades. Students with the best posture received pins. The class of 1923 devoted their Hygiene song to the subject: "When we get older / We won't be told ter / Keep a straight shoulder / It'll come natural / When you bend up like a bow / Where do all your organs go / All of this you ought to know / She told us so."
If anything, interest became more intense in the 1930's and 40's with the establishment of the class "Fundamentals," mandatory for all freshmen. It taught, as one catalogue in 1946 described it, "theory and practice of fundamental body movements," and provided a standardized system through which the college could reach each student to improve her stance.
The college also supplemented and extended the effects of fundamentals by measuring its students beginning in 1884, noting everything from height, to chest capacity, to posture data. To track their progress, students were evaluated at the beginning of their freshman year and just before graduation. In 1933, the measurements shifted to revolve around the new Fundamentals course. Now, the college observed the improvements of its students during one intense course, rather than over four years. By the 1920's, these records had expanded to include nude photographs.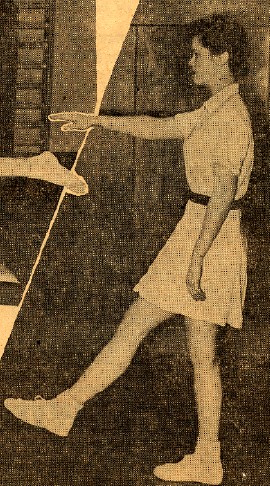 According to MacCracken, the college president, photography was an important improvement, as it is "…through visual records the student may see his progress and gain incentive to go on."
Although most elite eastern colleges took posture photographs in the mid-twentieth century, the procedures varied from school to school. As Professor Elizabeth Daniels described the method at Vassar: "In your freshman year you went over to the gym, Kenyon, where Professor Ruth Timm had set up a pro-tem photo booth. You changed into an angel-robe before entering the booth, shed the robe temporarily while your nude profile and rear views of your body were recorded, put the angel robe back on, and left… Ruth Timm analyzed the results with you and the two of you were going to work to improve your deficiencies. When you finished the fundamentals course, Miss Timm… committed the posture photos to the furnace." In other words, the procedure was medical in tone, and the evidence destroyed at the end.
However, it was clearly still quite problematic. While evaluating someone's body and outlining an exercise program to improve it is quite similar to the work of a trainer today, trainers rarely employ nude photographs. Their assistance is also usually not mandatory. Many girls, during the first few weeks of freshman year, may well have been extremely self-conscious about being photographed nude and subsequently having their bodies evaluated for defects. It seems odd that nudity was even required. As one professor pointed out to a student interviewing her in 1977, swimming shorts would not have undermined the effectiveness of the procedure. The intentions behind this program were probably good, but the experience itself was doubtlessly rather upsetting.
The most disturbing mystery surrounding the Vassar posture photographs lies in their alleged connection to William H. Sheldon, an anthropologist at Columbia in the 1940's and 50's. Rosenbaum, researching college posture photographs, linked the nude posture photos to those Sheldon used in his research: a rather disturbing allegation. By taking thousands of nude photographs and collecting them into an "Atlas of Men" and an "Atlas of Women," Sheldon was attempting to mathematically interpret the proportions of the human body. Rosenbaum noted that he divided "…human beings into three types – skinny, nervous "ectomorphs," fat and jolly "endomorphs;" confident, buffed "mesomorphs." He believed that each individual harbored within him different degrees of each of the three character components. By using body measurements and ratios derived from nude photographs, Sheldon believed he could assign every individual a three-digit number representing the three components, components that Sheldon believed were inborn–genetic–and remained unwavering determinants of character regardless of transitory weight change." In other words, the measurements of a person's body would reveal and indeed determine everything from their personality to future success. As a racist who claimed that African Americans stopped developing intellectually at the age of ten, there is some evidence that he intended to use his catalogues of nude photographs to prove the racial superiority of the white upper and middle class populations.
Unfortunately, he managed to convince a number of elite schools that his research was pressing, cutting-edge innovation instead of racist pseudo-science. Although by December of 1950, an angry public burned "The Atlas of Women" and discredited his work as pornographic, throughout the 1940's many colleges gave him a warm reception. Rosenbaum even intimated in his article that all the schools taking posture photographs in the twenties and thirties were only using them in the forties as a cover-up for Sheldon's more sinister research. When the article came out, this contention confused Vassar administrators, as it was clear that the posture photographs at Vassar continued to have only one purpose throughout their existence: to assess students' postures. Rosenbaum's claim that there were hundreds of photographs from a number of different schools in Sheldon's files stored at the Smithsonian, including Vassar classes of 1942 and 1952, also seemed inexplicable. After all, Professor Timm destroyed each class's photographs at its end, making it impossible for anyone to have seen them.
The truth behind the contradiction became clearer when a correspondence between Sheldon and Vassar's head physician, a sociology professor, and the Chairman of the Phys. Ed. Department appeared. In a series of letters between 1949 and 1950, these three faculty members expressed their interest in Sheldon's work. Their correspondence is revealing on a number of levels; it exposes both how Sheldon obtained his photographs and even hints at the motivations of the faculty members who made his work possible. On several occasions, Sheldon addressed two different letters to the same person on the same day. One letter would be personal in nature, inquiring about a weekend at the beach, and discuss specific details concerning the project. The second letter would sound more official, and contain fewer details and less controversial information. It seems clear that the informal letter was meant for the eyes only of the person to whom it was addressed, while the other could be filed with other official college documents. While the differences between the official and unofficial correspondence are not great enough to merit charges of outright deception on the part of Sheldon or the faculty members receiving his letters, they demonstrate a personal relationship that doubtlessly drove these three people to push the project through.
The secrecy of this endeavor becomes even clearer in Sheldon's descriptions of his procedure. In an official letter addressed to the physician in July of 1949, he described his goals and usual methods: "A good Atlas for Somatotyping Women is both important and possible… Minimally, we need between 10,000 and 20,000 photographs to determine satisfactorily the somatotype distributions… facial features will be blanked out and in the case of the girls further steps will be taken (such as painting out the outline of the head and hair, etc.) to safeguard anonymity. Wherever possible, the photographing should be done as part of the routine medical examination. It is particularly important to have an "unloaded" sample. That is to say, when the matter is put on a voluntary or semivoluntary basis the validity of the sample is destroyed (for of course some somatotypes are less eager to be photographed than others.)" In other words, while the girls would be unidentifiable, most of the Vassar community would not be informed of this agreement, let alone asked for consent. These three faculty members apparently accepted these terms.
The Chairman wrote Sheldon in 1952: "We expect to do physical exams for all sophomores during the week of March 20th to 24th. We will be taking our own posture pictures as part of that examination. If you can plan it and think you could fit into our time schedule, we will be glad to have you use these girls as some of your "guinea pigs."" Sheldon agreed, and apparently sent a team of photographers. The entire arrangement was rather odd. According to the course catalogues of 1950-51, the college held mandatory physical examinations for all its students each year, but these examinations usually did not include photographs. Photography usually only surrounded the Fundamentals class freshman year. Despite this break in normal practice, the session occurred anyway.
There was never any question of a repetition of the arrangement with Sheldon; that December, the public condemned him. At Vassar, the practice of regular posture photos ended in the late sixties, with the introduction of co-education and the abolishment of the physical education requirement. American obsession with posture also faded with the youth counter-culture movements in the sixties. Nearly forty years later, the program, while less problematic than Sheldon's research, seems little more than a violation of privacy and an embarrassment: a reminder how even the best of intentions can go awry. With the "Fundamentals" photographs burned years ago, little trace of them remains except for in hints in old course catalogues and a few crumbling letters. They should not, however, be forgotten.
After Rosenbaum's article emerged in 1995, Vassar historian Elizabeth Daniels and Nancy MacKechnie of Archives went to the Smithsonian to look at the photographs that ostensibly belonged to the classes of '42 and '52. They found two boxes of forty unlabelled photographs. As the women's hair was erased, and white bands blocked their eyes and noses, it was impossible to even identify them as Vassar students. This correspondence between Sheldon and these faculty members, however, indicated that they probably belonged to the class of 1952. Having determined this, MacKechnie and Daniels took a Smithsonian shuttle bus and drove to Prince Edward County, Virginia with the two boxes on their laps. One of them fed the photos to the macerator while the other collected the remains in a small plastic bag, which they carried back to New York. At Vassar the next morning, Daniels placed the ashes on Fran Fergusson's desk. A few days later, Fergusson enjoyed a laugh with the west coast alumnae when she held up the bag for inspection.
---
Related Articles
---
Sources
"Athletics," Subject File 23.92-94, Special Collections, Vassar College Archives.
"Be Upstanding if You Want to Get a Job – It's All Done With Posture." New York Sun. 27 April 1939.
Correspondance, Vassar College to William Sheldon, 1950.
E. Daniels. Interview on Posture Photographs. June 2005.
Ligon, Sarah, "A Crooked Science: The History of Posture Photos at Wellesley." Counterpoint, February 2002: 12-15.
"Physical Education," Boxes 1-4, Special Collections, Vassar College Archives.
Rosenbaum, Ron. "The Great Ivy League Nude Posture Photo Scandal." New York Times Magazine. 15 January 1995: 26, 31.
Yosifon, David and Stearns, Peter. "The Rise and Fall of American Posture," in The American Historical Review vol. 103, no. 4 (1998), 1057–1095.
---
CBC, 2005