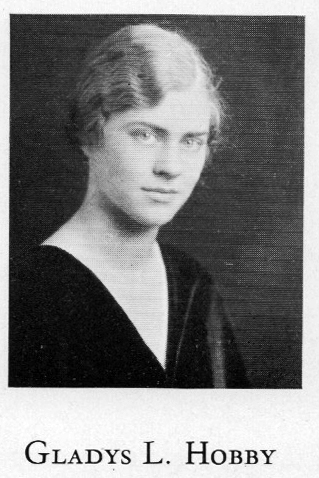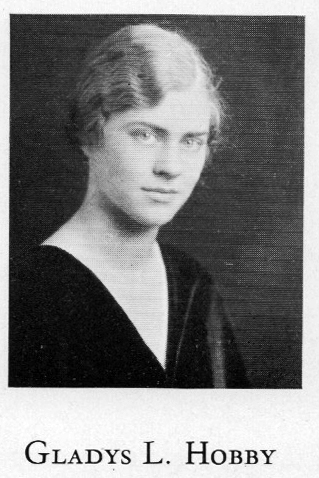 Responding to an alumnae survey in 1981 at the age of 71, Gladys Lounsbury Hobby, said "as I turn from the journal and see the book nearing completion, I am beginning to think about 'what next?' I do not plan to be idle." Mentioning that she had "made the first penicillin in the USA," she then listed the events of her life after retiring from scientific and medical research, noting her volunteer work and extensive travels. The nearly complete book was presumably Penicillin: Meeting the Challenge (Yale University Press, 1985), an examination of a career entirely lacking in idleness and highlighted by Hobby's pioneering work in the development of penicillin in the United States.
Born November 19, 1910, in New York City, Hobby was a product of the growing metropolis. Her mother, Flora Lounsbury Hobby, taught in the New York public schools system, and her father, Theodore Hobby, was a close associate of the philanthropist and collector, Benjamin Altman, eventually overseeing the Benjamin Altman collection in the Metropolitan Museum of Art. He also assisted John D. Rockefeller II in his acquisition of works of art.
After attending high school in White Plains, NY, Hobby arrived at Vassar a year behind her sister, Winifred. Her first year at college was challenging. But, initially a difficult course for her, chemistry was the one in which she had the greatest interest.
Graduating as a chemistry major in 1931, she was awarded a masters degree in bacteriology the following year from Columbia University. She received her Ph.D. in bacteriology from Columbia in 1935.
The previous year she had joined a research team at Columbia College of Physicians and Surgeons that was investigating potential human uses for penicillin. Discovered in 1928 by the Scottish physician and bacteriologist Alexander Fleming, the antibiotic compound had not received much professional interest. Hobby, intrigued by the chemotherapy aspect of the drug, began growing penicillin in sizeable amounts in collaboration with Drs. Martin Henry Dawson and Karl Meyer. In 1940, Dr. Dawson began the initial clinical trials of the drug, the results of which were highly successful.
Hobby, Dawson and Meyer subsequently devised a program to make the drug available in large quantities as World War II loomed, an accomplishment whose urgency and scope she compared to the Manhattan Project that produced the atomic bomb.
After Dawson's death in 1945, Hobby joined the Charles Pfizer chemical company, then entering the pharmaceutical field. There she continued her research on penicillin and other types of antibiotics, co-discovering Terramycin and developing Viomycin for the treatment of tuberculosis.
As her career as a successful pharmaceutical researcher advanced, Hobby continued her sometimes critical association with her alma mater. In 1957, writing to the alumnae association, she questioned the current direction of the science departments at Vassar:
"What has happened to the science departments of Vassar? Is it only in the biological field, and in particular the microbiological field, that these departments seem to have diminished in strength? Are they actually less active departments, are there fewer girls majoring in these sciences, or are there merely fewer who are utilizing their training for vocational purposes after college? Those of us who are now in the position of hiring personnel for scientific work do not find the trained girl from Vassar applying to us for employment. Rather, they seem to come to us from the smaller colleges and from the Middle Western colleges. Is this a reflection of the interests of the modern college woman? Is it a reflection of the fact that our larger colleges are not offering adequate vocational training? Is science not appealing to the college woman of today? These are questions which repeatedly come to mind."
Responding to another alumnae survey, in 1971, Hobby answered the prompt, "What is your concern?" with this insight:
"My concern is that the members of each generation ahead may not believe that they have lived through the greatest period in history. Currently though my concern is that we of my own generation may not recognize in time that our accomplishments are not sufficient or final; change is inevitable, youth must express itself and mature, and we are obligated to help in the maturing and transition process. My fear is that we may lack the persons with talent, initiative, willingness to lead, and that our government with its tremendous size and complex structure may lack the flexibility necessary to adapt to the changes ahead."
Leaving Pfizer in 1959, Hobby worked as a clinical instructor and assistant professor of public health at Cornell Medical College in New York. That same year she accepted the position of chief of the Veterans Administration Special Research Laboratory, in East Orange, NJ, for the study of chronic infectious diseases. Hobby remained at this post for 18 years, focusing particularly on the characteristics and control of tuberculosis.
In 1963 Hobby became the president of the New York Tuberculosis Association; the first woman to hold that title. She was also an honorary member of the American Society for Microbiology, the American Lung Association, and the American Thoracic Society. In 1972, Hobby founded the journal Antimicrobial Agents & Chemotherapy, of which she was the editor until 1980.
Hobby retired from full-time research in 1977, although she continued working as a freelance writer and editor. In the '71 alumnae survey she was asked the question, "Are you working now?" to which Hobby exuberantly responded, "Yes!!!"
Throughout her career Hobby published over 200 articles, as well as Penicillin: Meeting the Challenge (1985), called by MIT Professor Arne Hessenbruch in Readers Guide to the History of Science (2000) an "outstanding assessment…by far the best documented text on penicillin, completely superseding earlier comprehensive efforts."
Gladys Hobby died July 4, 1993 of a heart attack. Until the end of her career Hobby offered herself as a resource for young women studying in Vassar's department of science, encouraging them to follow in her footsteps and explore all of the opportunities available to them.
---
SOURCES
Chung, King-Thom, Women Pioneers of Medical Research: Biographies of 25 Outstanding Scientists, Jefferson, NC: McFarland, 2010
Hessenbruch, Arne, Readers Guide to the History of Science, New York, NY, Routledge, 2013
Hobby, Gladys, Penicillin: Meeting the Challenge, New Haven, Yale University Press, 1985
Saxon, Wolfgang, "Gladys Hobby, 82, Pioneer in Bringing Penicillin to Public, The New York Times, July 9, 1993
Hobby, Gladys L. Correspondence with the Associate Alumnae of Vassar College (AAVC), "File on Gladys Hobby," Vassar College Office of Alumnae\i Affairs and Development (OAAD)
---
GM, 2015