Louise Seaman Bechtel '1915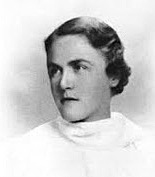 In an alumnae questionnaire circulated in 1952, Louise Seaman Bechtel was asked if she supported herself. Seaman Bechtel checked "no," although she scribbled into the margin "but could!" The answer was befitting of Seaman Bechtel, for though she always took a large amount of pride in her role as a wife, she also ensured that no amount of workplace sexism would stop her on the path to becoming a prolific and pioneering children's book editor.
Louise Seaman was born in Brooklyn, New York, on June 29, 1894, the daughter of Charles Francis Seaman and Anna Cortelyou Van Brunt. She attended Packer Collegiate Institute, founded in 1845 as the Brooklyn Female Academy, in the Brooklyn Heights neighborhood, subsequently travelling up the Hudson to Vassar College in Poughkeepsie. At Vassar, she studied economics, religion, music and English, and served as an editor on the Miscellany News while also occasionally writing sonnets for the publication. Graduating in 1915 with a B.A. in English, she went from Vassar to Yale to do graduate work. While studying English and history at Yale, Seaman taught those subjects at Mrs. Day's School in New Haven.
In 1919, a year after completing her work Yale, Seaman was introduced by her college friend Rebecaa Lowrie '13 to her employer George Platt Brett, Sr., the head of Macmillan Publishing, at that time the largest publishing house in the country. Although Seaman wanted to go into book publishing, Brett decided to hire her for the advertising department, where she spent what she later reflected was an "hilarious year."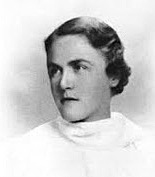 On her first day, Seaman remembered, her boss came in late with a hangover following dinner with Edna St. Vincent Millay the previous evening. When the boss saw Seaman, he roared "What's THAT? Not another female for this harem of mine! What can I give you to do…I know! Read the catalogue! No one else ever has done it."
Rather than be discouraged by her boss's erratic encouragement, Seaman threw herself into the work of reading the entire Macmillan catalogue with gusto. The work that she read so impressed her that she composed a sonnet on the catalogue. The sonnet caught the eye of Mr. Brett, who moved her to the education department of the company for a brief time. Although he recognized Seaman's talents, Brett felt hesitant to recommend her as a book publisher to the owners of the company, Sir Harold and Sir Frederick Macmillan, for fear that it would "tarnish their reputation with them, to think he trusted someone so young—and a woman."
Brett, however, believed that there was a distinct, important and underserved market for children's books, and that Seaman's potential could be shown by her attending to that market. In the winter of 1919 he created a new editorial division for the company, the Department of Books for Boys and Girls, and made Louise Seaman the head of it. The new department—the first of its kind in the country—grew rapidly, soon taking responsibility for publishing more than 50 children's books per year. Seaman worked hard at the job, traveling around the country on sales trips, lecturing widely and writing prolifically on children's literature. She independently selected the books to be included in the catalogue every year, and she oversaw their manufacturing and illustration. She also was the host of a weekly radio program during her time at Macmillan, going by the alias "The Story Lady." Through it all, Seaman was guided by her belief that children's books should be filled with real ideas, with content that warranted the premier artists of the land illustrating them. In 1941, Seaman defined her goal: finding "the writer and artist who put the greatest ideas into the simplest, most beautiful form," criticizing adults who were inclined towards drab books with small print. The children's book must be straightforward but engaging, never insulting the intelligence of the target audience. "To trust the power of childhood—that is our challenge," she concluded.
Among Seaman's early authors were Padraic Colum, Horace Kephart and Cornelia Meigs. After ten years working as head of the children's literature department at Macmillan, Seaman impressively saw books from her division win the Newbery Medal for the most distinguished contribution to American literature for children three years in a row. The Trumpeter of Krawkow by Eric P. Kelly and illustrations by Janina Domanska, Hitty, Her First Hundred Years, by Rachel Field and illustrated by Dorothy P. Lathrop, and The Cat who Went to Heaven by Elizabeth Coatsworth '15 and illustrated by Lynd Ward, successively won the prestigious prize, beginning in 1929.
Nineteen twenty-nine was also the year Louise Bechtel married Edwin DeTurck Bechtel. A graduate of Harvard and a well-known lawyer, Bechtel was also a print collector, author and specialist in roses. Louise Seaman Bechtel took on her husband's surname but also retained her own. A few years after her marriage, in December of 1931, Seaman was thrown from her horse and fractured her hip. Citing the need for additional recovery time from the accident, she retired from Macmillan in 1933. Her dear friend and classmate at Vassar Elizabeth Coatsworth '15 wrote that Seaman Bechtel was "in everything a pioneer, with a pioneer's infectious vigor and high spirits," noting that something was sure to go out of publishing with her retirement.
However, Seaman Bechtel did not leave the field of literature entirely, even as she left New York City for the town of Bedford in Westchester County, New York. Indeed, the next decade was a busy one. Beginning in 1939, she spent many years as the associate editor of The Horn Book Magazine, a publication, founded in 1924, that wrote about issues and trends in children's literature. Seaman Bechtel was active in her retirement as president of the Bedford Garden Club. She saw this position as a "war job," as the club promoted food conservation and donation to schools and hospitals in the area. During the summers of 1941 and '42, she taught at the Writer's Conference of the Rocky Mountains, held at the University of Colorado.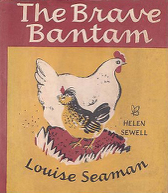 Seaman Bechtel also wrote children's books of her own during this decade. The Brave Bantam, which follows the misadventures of a chicken, was published in 1946, with the illustrations by Helen Sewell. Mr. Peck's Pets came out the following year, with illustrations from Berta and Elmer Hader. Both books were published by the Macmillan Company. Seaman Bechtel rounded out the decade in 1949 by accepting a job as a critic of children's books for the New York Herald.
Seaman Bechtel held this position until 1956, when she retired because of her husband's ailing health. At his death, in 1957, Seaman Bechtel also resigned her position at The Horn Book Magazine. In a loving tribute to her husband, Seaman Bechtel published her biography of him, The Boy with a Star Lantern: Edwin DeTurck Bechtel, 1880–1957 in 1960.
She sent a copy of the book to Vassar President Henry Noble MacCracken shortly after it's publication, and, inviting her to visit him in Poughkeepsie, he responded that her book had "greatly touched [him]." It is not known whether that meeting ever took place, but in 1971, shortly after lunching with Seaman Bechtel at Vassar, MacCracken's successor, Alan Simpson, wrote to her, expressing hope that her collection of children's books could find a home at the college.
In her time both inside and outside the publishing world, Seaman Bechtel had amassed a collection of thousands of children's books from the 19th and 20th centuries, ranging from Irish fairy tales to illustrated history books to lyrical books of whimsy. A single room in her house held approximately 3500 books. Echoing President Simpson's entreaty, Vassar Librarian Barbara LaMonte wrote to Seaman Bechtel about the collection, saying it would add "an entirely new dimension to the collection here, which has some strength in children's books of earlier periods, but almost nothing published in the 1920's and 1930's."
In 1979, the college held a series of workshops on children's literature, "Books in Search of Children," which was dedicated in Seaman Bechtel's name. Writing to Thomas McHugh, who organized the conference, Seaman Bechtel expressed regret that she could not attend the conference but said that she was "impressed beyond words" by its organization. The following year the Louise Seaman Bechtel collection was donated to Vassar. Louise Seaman Bechtel died at her home in Bedford, on April 12, 1985, at the age of 90, leaving a rich legacy of pioneering work in children's literature, much of which can be discovered in Vassar's Special Collections Library, where her collection is permanently housed.
---
Sources
Seaman Bechtel, Louise, Books in Search of Children. New York: Macmillan, 1969.
Bechtel papers, Vassar College Special Collections (VCSC).
Biographical File, Louise Seaman Bechtel (VCSC).
---
BC, 2016