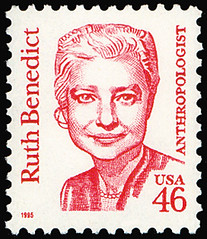 From an early age, Ruth Fulton Benedict was an acute questioner of the world around her. In an early journal, the young Ruth wrote:
The trouble with life isn't that there is no answer, it's that there are so many answers. There's the answer of Christ and of Buddha, of Thomas à Kempis and of Elbert Hubbard, of Browning, Keats and of Spinoza, of Thoreau and of Walt Whitman, of Kant and of Theodore Roosevelt. By turns their answers fit my needs. And yet, because I am I and not any one of them, they can none of them be completely mine.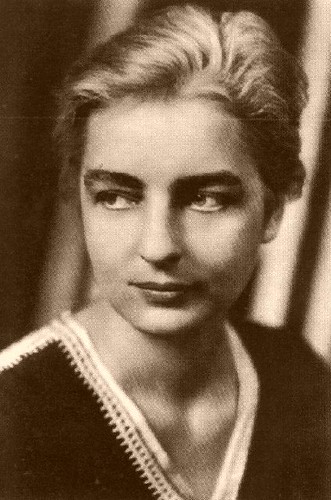 One of the first women to make major contributions to the study of anthropology, Benedict also helped to popularize the subject for wider audiences. Moreover, Benedict proved women had unique and fresh perspectives that enlarged the world of science. In a field dominated by men until the early 20th century, Benedict left an indelible impact on her successors, leaving behind a body of work that is still widely read and studied by anthropologists as well as the broader public.
Remembered as an important scientist, Benedict was a multifaceted woman with many interests that escaped the borders of science; at Vassar's centennial commemoration of Benedict's life in 1987, she was celebrated not only as an anthropologist but also as a feminist and a poet. Benedict's passion for writing and poetry, which she began to develop as an introverted adolescent, helped her to produce unique and complex works on the cultures she studied.
Benedict came to anthropology relatively late, studying under Franz Boas at Columbia University when she decided to go back to school to pursue a post-graduate degree. Best known for Patterns of Culture (1934) and The Chrysanthemum and the Sword: Patterns of Japanese Culture (1946), which remain key anthropological and cultural works, Benedict also wrote Zuni Mythology (1935) and Race: Science and Politics (1940). Her most widely read book, Patterns of Culture—translated into 12 languages—has sold over 2 million copies in English alone.
Ruth Fulton was born in New York on June, 5 1887. Her exact place of birth is contested among her biographers. In her biography, Ruth Benedict: a humanist in anthropology, her close friend and colleague, Margaret Mead, claimed that she was born in a small farming town, Shenango Valley, while others say Benedict was born in New York City. Ruth's father, Frederick S. Fulton, a talented young surgeon, died suddenly from a severe fever before Ruth was three years old. The sudden death of her father left Ruth's mother, Beatrice Shattuck Fulton, a schoolteacher who had graduated from Vassar, with two daughters to raise on her own. Ruth's sister, Margery, had been born in March 1889, and after her husband's death, Beatrice struggled to make ends meet.
During childhood, as her mother pursued teaching jobs, Benedict moved from St. Joseph, Missouri to Owatonna, Minnesota, and later to Buffalo, New York. Her early years were difficult, marked by economic crises and her mother's profound sadness. A sense that her mother favored Margery also brought on periods of withdrawal followed by violent outbursts of temper. Mead imagines these shifts of mood, as Ruth attempted " to maintain a cool and tearless exterior while experiencing intense inner turmoil." Ruth observed her mother as unloving woman consumed by a life of single-motherhood and perhaps even more so by the grief of losing her husband. Looking back on her childhood and her tenuous relationship with her mother Benedict said, " I did not love my mother; I resented her cult of grief, and her worry and concern about little things."
Adding to Ruth's childhood sense of isolation and retreat from everyday life was a partial deafness caused by a serious illness in early childhood. The disability was not diagnosed until she attended the Norwich Public School in 1895, by which time she had become a quite shy and reserved person. Even though she spent much of her adult life as a teacher, giving lectures to large audiences of students, Benedict never enjoyed the spotlight, and those who had her as a professor were often surprised by how soft-spoken she was.
In 1905 Ruth and Margery entered Vassar, where Ruth continued to develop her interest in literature, poetry, and writing prose. She graduated Phi Beta Kappa in 1909, with a degree in English literature, after which she traveled in Europe for a year. After her time abroad she settled in Buffalo, where she worked for the Charity Organization Society, quitting because she felt inadequate to the task. In 1911, she took a teaching job at the Westlake School for Girls in Los Angeles, and later she taught at the Orton School for Girls in Pasadena for two years. The school, which was founded in 1890 by Vassar graduates, Anna and Susan Orton, continued the educational legacy of their father, James. H Orton, a renowned science professor and early anthropologist, who had taught at Vassar for many years.
In Los Angeles Ruth met her future husband, Stanley Benedict, a biochemist and the brother of one of her Vassar classmates. The couple moved back to New York in 1914 and bought a house in Long Island, from which Stanley commuted to his work at Cornell Medical College in Manhattan. Frustrated in the loneliness of her marriage and unable to conceive a child due to medical complications, Benedict cast about, studying dance and writing poetry under the pen name Anne Singleton, an enterprise she continued into the 1930s. In 1919, she went back to school, enrolling at The New School for Social Research, where she discovered anthropology, through the eyes of three innovative pioneers in the field: Elsie Clews Parsons, Edward Sapir, and Alexander Goldenweiser.
In 1921, at the age of 34, Benedict entered Columbia University, where she earned her PhD in anthropology studying mainly under Franz Boas, who arranged for the transfer of her work at the New School, so that barely more than her dissertation was necessary for her degree. Considered by many to be the father of American anthropology, Boas, after coming to Columbia in 1899, had consolidated anthropologists appointed in several academic departments into a single program that eventually fashioned the first PhD program in anthropology in the country. His identification of the "four fields" of the emerging discipline, combining physical anthropology, linguistics, archaeology, and cultural anthropology, as well as his development of the still disputed notion of cultural relativism were immediately engaging to Benedict.
After obtaining her PhD in 1923, Benedict served for a year as Boas's teaching assistant at Barnard College, where she met a senior, Margaret Mead, who was to become a lifelong friend and colleague and with whom Benedict shared an intimate relationship after her separation from her husband in 1930. Mead recalled her first impression: "At this time her beauty, which had been conspicuous in her girlhood and was to become legendary in later years, was completely in eclipse. We saw her as a very shy, almost distrait, middle-aged woman whose fine, mouse-colored hair never stayed quite pinned up."
Benedict taught, at Columbia from 1923, first as a lecturer and achieving full professorship only a few months before her death in 1948. While Benedict was a popular professor, she was quite shy and wary of public speaking. Often noted for her mysterious nature and despite her aversion to speaking in front of her students, Benedict was a mesmerizing teacher, enigmatic and yet able to explain her complex ideas with both passion and clarity. In 1937, a year after the death of her husband, Benedict became the acting executive director of the Department of Anthropology at Columbia.
Since 1922, Benedict had also been engaged in the extensive fieldwork that would underpin her anthropological insights. Starting with a trip to Southern California to conduct ethnographic studies of the Shoshonean Serrano people in the Morongo Valley, Benedict went on to complete major anthropological studies of the Serrano in 1922, the Zuni in 1924, the Pima in 1926, and soon there after the Apache of the Southwest, as well as various Plains Indian tribes. Her unique contribution to the study of anthropology was the theory that culture is "personality writ large." Benedict's strong belief in the applied study of cultural relativism—the theory that a culture or group of people can be studied only against the backdrop of itself— was the motivating force in Patterns of Culture (1934), which The New York Times hailed for its "expertly conceived and brilliantly developed" combination of "a quartet of sciences, anthropology, sociology, psychology, and philosophy."With the onset of World War II, Benedict became involved with the war effort, writing on European and Japanese cultures for the Office of War Information. From her studies in Japanese culture, she subsequently wrote the extremely well received book, The Chrysanthemum and the Sword (1946), which offered readers a compassionate look at Japan, a country that had just lost a war to the United States. After the war, Ruth Benedict returned once more to Europe, to complete research for a large project sponsored by UNESCO that studied the occupation of Eastern European countries. She died from a coronary thrombosis, at the age of sixty-nine, on September 17, 1948, five days after her return from Europe.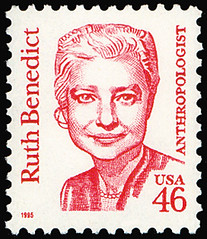 In a speech accepting the Annual Achievement Award of American Association of University Women in 1946, Benedict defined the unique awareness of both the scientific method and the humanist spirit that informed her life's work: "I have faith of a scientist that behavior, no matter how unfamiliar to us, is understandable if the problem is stated so that it can be answered by investigation and if then studied by technically suitable methods. And I have the faith of a humanist in the adventures of mutual understanding of men"
---
External links
---
Sources
Margaret Mead, An anthropologist at work: Writings of Ruth Benedict, Boston, 1959.
Margaret Mead, Ruth Benedict: a humanist in anthropology, New York, 1974.
Barbara A. Babcock, "'Not in the Absolute Singular': Re-Reading Ruth Benedict," in Nancy J. Parezo, ed., Hidden Scholars: Women Anthropologists And The Native American Southwest, Albuquerque, 1993.
Colleen Ballerino Cohen, "Reading and Writing the Script of Anthropology: Benedict, Gender and Style," Vassar College, 1988.

Vassar College Special Collections, 125th Anniversary Event: Ruth Benedict Centennial, April 2-3, 1987.
"Miscellaneous Brief Reviews," The New York Times, October 21, 1934
Susan K. Hochman, "Ruth Fulton Benedict," in Women's Intellectual Contributions to the Study of Mind and Society, online project of an advanced seminar at Webster University: https://www.webster.edu/~woolflm/women.html
WW, CJ 2009