Embarking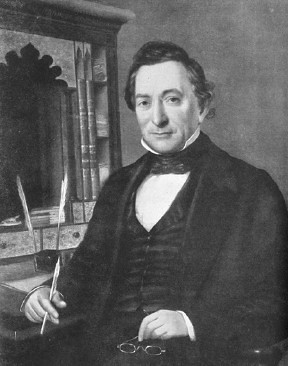 Matthew Vassar, business entrepreneur and founder of Vassar College, was born in Norfolk, England, in 1792. Like several others in the late 18th and early 19th centuries, Vassar's parents, James and Ann Vassar, planned on immigrating to America in hopes of starting anew, free of the social and political constraints imposed by the English Church. So Matthew, his parents, four siblings, and uncle Thomas Vassar, abandoned a small farmhouse in England, and set sail on the ship Criterion in 1796. En route, Vassar barely escaped a "watery grave" when a massive wave collided with the ship and sent his four-year-old body skidding across the deck.
This perilous event would set the tone for Vassar's childhood, which was beset by sickness, violence, and near scrapes with death. His earliest memories include nearly drowning in the family pond after tumbling headfirst off his father's horse and almost being gored by an enraged English Bull. By 1804, after his family had settled in Dutchess County, Vassar had contracted typhus three times, narrowly escaped death by charcoal fume inhalation, and wrangled snapping turtles and venomous snakes alike.
What he had not done was receive a formal education. In fact, due to the chaotic nature of his daily life and his father's overall indifference, Vassar received hardly any schooling whatsoever. After young Vassar attended "Night School," where he retaliated to disciplinary action by "sen[ding] an Ink Stand at [the teacher's] Yellow Breeches," James Vassar refused his son any further education, and prepared him instead to join the workforce.
Business as Usual
By 1806, after Thomas Vassar had returned to his homeland to purchase English barley, the Vassar brewing business had become decidedly successful. Matthew, however, found the enterprise "distasteful" and refused to participate. Then, learning of his father's plan to apprentice him to a tanner, Vassar panicked and decided to run away from home. (1) Vassar's mother, "seeing [his] determination" to strike out on his own, sneaked him out of the house one early morning and walked him nine miles to the Hamburg ferry, where the two shared a tearful farewell.
Vassar soon reached Balmville, where he met Mr. Butterworth, a benevolent Englishman whose son ran a country store. As his first business venture, Vassar negotiated a job for himself at the store and worked for the family at a rate of 300 dollars a year. Three years later, however, he accepted a better paying position with another local merchant, Daniel Smith. Then, having proved himself capable of earning a living, Vassar returned to Poughkeepsie in 1810 with 150 dollars in his pocket, ready to join his father's brewing business.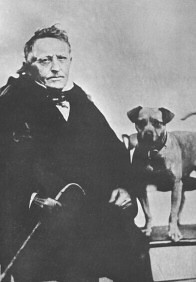 Unfortunately, the business literally went up in smoke the following year. A fire raged through the main brewery, gutting the building and devastating Vassar's father financially. The following day, Vassar's older brother, John Guy Vassar, attempting to inspect the wreckage, died from carbonic acid poisoning. The immeasurable loss left James Vassar emotionally and financially paralyzed, and Matthew Vassar assumed responsibility of his brother's two sons, John Guy Jr. and Matthew Jr., and set up a temporary brewery in his brother-in-law George Booth's old dye house.
The World
In his brief autobiography, Matthew Vassar describes summer 1812 as the moment that "began the world." At that point in particular, "the world" was his oyster saloon, his fledgling brewery, and his blossoming love life. While spending his days "brewing at the dye-house," Vassar worked nights in a saloon he had opened in the basement of the County Courthouse. Financially secure at the age of twenty, he proposed to and married Catharine Valentine of Fishkill and began renting a modest apartment at the rate of forty dollars a year. (2)
Upon turning twenty-one, Vassar attempted to vote but was denied on the basis of being an "alien." So, when rumors of a British attack swept New York later that year, Vassar made use of his alien status and avoided the draft. (3) Instead of enlisting, he dedicated his time to the construction of a new brewery on Vassar Street, and soon entered into a partnership with Thomas Purser, a wealthy Englishman and admirer of Vassar's ale. Two years later, when Purser resigned due to poor health, the Conklin brothers stepped in and became partners in M. Vassar & Co.
During the Conklin period, the brewing business progressed despite several complications. Vassar experienced yet another bout with "bilious typhus", a broken leg, and a severe cold which left him bedridden for a full year. Between maladies, a series of "fires and floods" threatened the brewery and brought Vassar to "the verge of Bankruptcy." But the young brewer persevered, and a "steady tide of prosperity set in," allowing him to devote more time to public service.
By the time Vassar dissolved the Conklin partnership in 1829, he was counted among Poughkeepsie's elite. After becoming a Poughkeepsie village trustee in 1819, Vassar began volunteering his time as recording secretary for the Dutchess County Colonization Society (4) in 1824. He lunched that year with Lafayette during his return to the United States, and "took a prominent lead" in establishing both the Poughkeepsie Savings Bank and the Poughkeepsie Whaling Company. In 1835, Vassar secured the presidency of Poughkeepsie as the "Improvement" candidate.
M. Vassar & Co. underwent significant changes during this period, as well. In 1832, Vassar invited nephews John Guy Jr. and Matthew Jr. to join the business as partners, four years later, the firm commissioned a new waterfront brewery, which became the largest in the United States at the time, measuring 200 by 50 feet and producing 50,000 barrels of beer each year. While many businesses suffered during the 1837 depression, M. Vassar & Co. flourished due to an ongoing demand for ale. Vassar even decided to acquire a new company that year, a brickyard that manufactured "large and beautiful pressed bricks" known as "Poughkeepsie Stretchers." The "Prohibitory Law" of 1855 was repealed in 1857 after much rallying on Vassar's part, and it failed to have a great effect on M. Vassar & Co. One newspaper article entitled, "Beer and the American People" attempted "to emulate… the high ideals" of Matthew Vassar by listing ways in which beer – "the safest beverage known" – aided the public. The article held beer responsible for preventing crime, allowing children to go to school, lowering taxes, and decreasing unemployment.
Old Footsteps
In 1845, having amassed a sizeable fortune, Vassar decided to visit England for the first time in forty-nine years. Accompanied by wife and future Vassar College trustee Cyrus Swan, the brewer embarked for his homeland on the packet-ship Northumberland. While in London, a visit to Guy's Hospital (5) triggered Vassar's longing to immortalize his name as had Sir Thomas Guy, who had founded the great hospital in 1721. As he and his companions traveled through Europe, visiting towering castles and ancient cathedrals, they often discussed what form Vassar's monument might take. In Rome, Vassar purchased several statues but, realizing he had no public grounds in which to display them, decided to leave them in Europe.
Perhaps this was still fresh in his mind in 1850, when he laid plans for Springside, a fifty-acre estate with public gardens. While he originally bought the lot as a potential site for the Poughkeepsie graveyard, the Cemetery Association eventually agreed on another location, and Vassar kept the property for himself. Once the gardens had been "beautified and cultivated" according to Andrew Jackson Downing's plans, Vassar opened them to the public. Although local visitors enjoyed Springside, Vassar had yet to conceive the monument that would truly preserve his memory.
Vassar's step-niece Lydia Booth first introduced the aging brewer to the idea of "the enlarged education of women," when she returned to Poughkeepsie in the mid-40s to run the Cottage Hill Seminary for women. Booth's "noble idea" was "amplified," however, by Milo P. Jewett, a clergyman and educator who had founded the Judson Female Institute in Alabama and who had who purchased the seminary from Vassar in 1855, after Booth's sudden death. (6) Vassar had just completed his presidency of the Poughkeepsie Lyceum of Literature, Science, and Mechanic Arts, and was currently occupied battling a New York State prohibition law (7), while also serving as president of the Poughkeepsie Aqueduct and Hydraulic Company. (8) Yet Jewett persevered with the idea of opening a women's college, and eventually earned Vassar's confidence.
The Monument at Last
Although Vassar's nephews vocally opposed the idea, hoping their uncle might join them in opening a hospital instead, Jewett eventually convinced Vassar to endow "Vassar Female College." While serving as a trustee at Rochester University, Vassar met Martin Anderson, then president of Rochester, with whom he developed his ideas concerning higher education for women. He then organized a group of twenty-eight trustees for Vassar Female College, including Anderson and several other acquaintances from Rochester (See Original Board of Trustees). On February 28, 1861, Vassar met with these charter trustees to outline his vision for the first "fully endowed institution for the education of women," (9) and to present the board with $408,000 for the opening of the college. In his opening speech to the Board of Trustees, both Ann Vassar's and Lydia Booth's influence on the founder become all the more clear. Vassar asserts, "The MOTHERS of a country mould the character of its citizens, determine its institutions, and shape its destiny. Next to the influence of mother is that of FEMALE TEACHER…" These two women, one mother and one female teacher, surely "determined" the "institution" of Vassar College.
Vassar's original choice as architect for his college, Thomas Alexander Tefft, died while beginning his work, and Vassar turned to the prominent New York architect, James Renwick, Jr. Construction began in 1861, just after the commencement of the Civil War. Unfortunately, certain events hindered the college's progress. The price of building materials fluctuated due to the war and one builder, Poughkeepsie mayor William Harloe, was forced to declare bankruptcy. Milo Jewett, now college president, became increasingly suspicious of Vassar's nephews' attempts to sway the founder's intentions, and eventually entered a heated argument with Vassar over the opening date of the college. Jewett was forced to resign in 1864, after a letter, in which he called the founder "fickle and childish," surfaced (See Top Hat Scandal). This year also marked the first anniversary of Catharine Vassar's passing and saw the death of Vassar's beloved dog "Tip" (10)* and.
Dr. John Raymond reluctantly assumed the presidency after Jewett's departure, and assisted the founder in selecting the college's first nine professors. Vassar bought an extensive collection of paintings and books on art from charter trustee Rev. Elias Magoon, which he used to outfit the college's art gallery. By June 1865, the aging founder declared himself "sick and tired of college business" and resigned from the Executive Committee. When the college opened its doors to 353 young ladies that fall, however, Vassar's faith in the enterprise was rejuvenated and he visited the campus almost daily to chat with the students.
In 1867, the trustees voted to remove the word "female" from the college's title after a long campaign spearheaded by Godey's Lady's Book editor Sarah Josepha Hale, (11)* who considered the inclusion of the word both degrading and grammatically incorrect. The following year, Matthew Vassar died on June 23, 1868, while delivering a speech to the Board of Trustees. In his final moments, Vassar impelled his associates not to tread "the old beaten paths" but to strive constantly for "progress." Vassar College had become more than a mere monument for the founder; it had become a foundation for his newfound beliefs and a mechanism for change.
The Afterlife
In his last speech, Vassar bid the trustees a "final farewell." Reports from 1914 by residents of an old Poughkeepsie farmhouse, however, seem to challenge the finality of the founder's departure. According to articles from the New York Times and the Poughkeepsie Enterprise, three families moved out of the same farmhouse within four months, all complaining of being haunted by "an apparition" that "exactly resembled the best existing portraits of Matthew Vassar." One article asked victims to relay any information concerning "why he walks" to the county historian. If nothing else, these reports illustrate the degree to which Vassar still inhabited the local consciousness almost fifty years after his death. (12)*
---
Related Articles
---
Footnotes
As Elizabeth Daniels notes in her Matthew Vassar: More Than A Brewer, Vassar could not remember whether his "great escape" occurred in 1806 or 1807. p. 6.
Vassar's father considered forty dollars a year a "very extravagant beginning," and chided him mercilessly. Lossing, 29.
Vassar did, however, join a volunteer company of Fusileers the year prior. Daniels, 8.
The Dutchess County Colonization Society was formed for "colonizing the free people of colour with their consent and choice." Daniels, 8.
Vassar's ancestor, Thomas Guy, made his vast fortune from a series of speculations during the South Sea Bubble in 1720, which financially ruined many others.
Jewett learned about the seminary from an advertisement in a Baptist magazine.
The law was repealed in 1857 after much rallying on Vassar's part, and failed to have a great effect on M. Vassar & Co. One newspaper article entitled, "Beer and the American People" attempted "to emulate… the high ideals" of Matthew Vassar by listing ways in which beer – "the safest beverage known" – aided the public. The article held beer responsible for preventing crime, allowing children to go to school, lowering taxes, and decreasing unemployment. Folder 11-A, VCSC.
Poughkeepsie Aqueduct and Hydraulic Company strove to purify the city's water. (Daniels, 11).
In Vassar's opening speech, both Ann Vassar's and Lydia Booth's influence on the founder become all the more clear. Vassar asserts, "The MOTHERS of a country mould the character of its citizens, determine its institutions, and shape its destiny. Next to the influence of mother is that of FEMALE TEACHER…" These two women, one mother and one female teacher, surely "determined" the "institution" of Vassar College.
Vassar wrote and published an endearing mini-biography about Tip just after he died. The Life of Poor Dog Tip, illustrated throughout, chronicles Tip's unhappiness in parting from his brothers and sisters ( "for whom he was often seen to weep") and his affinity for chasing squirrels. Vassar also includes an account of Tip's half-brother Dog-Don's unfortunate end at the hand of "an assassin." Folder 11-B. VCSC.
Hale frequently wrote Vassar, Jewett, Lossing, and Raymond between 1860 and 1867. Her crusade against the word "female" became most heated in 1865 when she wrote the following to Matthew Vassar: " 'The Female Mind.' What female do you mean? Not a female donkey. Must not you reply 'I mean a female woman?' Then why not say, 'Woman's Mind' at first, and not degrade the feminine sex to the level of animals?" Hale later refers to the "present indefinite, imperfect title" of the college and begs Vassar to change the name to "Vassar College for Young Women," "a noble name, definite, delicate, and dignified – also brief as only the two first words, "Vassar College," will ever be needed on letter, addresses, etc." (letter from Hale to Vassar, March 30, 1865).
Vassar wrote at some length in his autobiography about his own ghostly encounters. One story chronicles his run-in with a headless ghost while rescuing one of his cows. Another, a reoccurring dream featuring a "Ghostly Apparition" who would approach Vassar with an "extended & quivering forefinger," recalls the accounts of Vassar's ghost, who apparently approached the farmhouse residents "with finger pointed." (Vassar, 31-32).
---
Sources
Daniels, Elizabeth. Matthew Vassar: More Than A Brewer. Poughkeepsie: Vassar College, 1992. 5, 6, 7, 9, 12.
Dutchess County Historical Society YearBook. 1961. Vol. 46. p. 39.
Lossing, Benson. Vassar College and Its Founder. New York: C. A. Alvord Printer, 1867. 14, 23, 24, 27, 55, 63, 81.
Poughkeepsie Journal, articles on "Poughkeepsie Improvements During the Pressure." June 13 and 20, 1838.
Plum, Dorothy & Dowell, George. The Magnificent Enterprise. Poughkeepsie: Vassar College, 1961. p. 2-3.
Vassar, Matthew. The Autobiography and Letters of Matthew Vassar. New York: Oxford University Press, 1916.20, 21, 25, 27, 32-33, 48.
Vassar, Matthew. Communications to the Board of Trustees of Vassar College by its Founder. New York: Standard Printing and Publishing Company. 1886. p. 52.
New York Times. " Imagine Waking to Find Ghost of Matthew Vassar in Room." September 13, 1959. Box 9, folder 40. Vassar College Special Collections (VCSC).
Poughkeepsie Enterprise. January 28, 1914. "Vassar's Ghost Drives Tenant from Old Home." Box 9, Folder 40. VCSC
Unpublished memoir by Matthew Vassar. Box 9, Folder 224. VCSC
---
SL, 2004