Introduction
Preparing in 1873 an account of its brief history, John Howard Raymond, the president of Vassar Female College and the professor of moral philosophy when it opened in September 1865, recalled the well over 1,000 first applicants for admission. "A large number, between the ages of fifteen and twenty-four," he wrote, "from all parts of the Union and from Canada, applied for examination, and about three hundred and fifty were accepted. A respectable minority of these, say one fourth, or one third, had been well taught—a few admirably. But of the great majority it could not be said with truth that they were thoroughly grounded in anything. In the ordinary English branches, had the same tests been applied then that are applied now with unvarying strictness at every entrance examination, one half the candidates would have been refused…. In the more advanced studies, the examinations revealed a prevailing want of method and order, and much of that superficiality which must necessarily result from taking up such studies without disciplinary preparation."
Of the 353 first students, 174 were from New York state, while others traveled long—in some cases extraordinary—distances, 55 coming from the Western states, six from the Southern states, seven from Canada and one from Hawaii. Maria Dickinson McGraw '67 described the scene: "There were more than three hundred female persons ranging between fourteen and twenty-four, or more, years of age: they were mostly strangers to each other and to the teachers. They came from East, West, North and South, from all grades of schools, with every degree of preparation and non-preparation for the life and work of college."
"Most of the older students," President Raymond noted, "had professedly studied Latin, and either algebra or geometry, or both. But the Latin had usually been 'finished' with reading very imperfectly a little Caesar and Virgil; and the algebra and geometry, though perhaps in general better taught, had not infrequently been studied in easy abridgments, of little or no value for the purposes of higher scientific education…. One thing was made clear by these preliminary examinations: that, if the condition of the higher female education in the United States was fairly represented by this company of young women, with a great deal that was elevated in aim and earnest in intention, it was characterized by much confusion, much waste of power, and much barrenness of result, and admitted of essential improvement."
Another professor, the acclaimed astronomer Maria Mitchell—herself informally educated and largely self-taught—reflected similarly at the end of the college's first year. "Vassar College," she told her journal, "brought together a mass of heterogeneous material, out of which it was expected that a harmonious whole would evolve—pupils from all parts of the country, of different training, different views; teachers, mostly from New England, differing also; professors, largely from Massachusetts, yet differing much. And yet, after a year, we can say that there has been no very noisy jarring of the discordant elements; small jostling has been felt, but the president has oiled the rough places, and we have slid over them."
While at first the "about three hundred and fifty" first students in President Raymond's account were not placed in the traditional collegiate classes—freshman, sophomore, junior, senior—the founding trustees' design for the new college's program anticipated the "heterogeneous material" its first students constituted and sensibly proposed three collegiate divisions: Regular Collegiates; Specials or Irregular Collegiates; and Regular Preparatories. The Regular Collegiates were expected to be in one of the four traditional collegiate years, although the Prospectus of the Vassar Female College, published in May 1865, questioned "whether young ladies will be found willing to spend this length of time in study, after reaching their sixteenth year." This, the Prospectus proposed, involved "the whole question whether there is a real demand for an education for women, that is worthy to be called liberal. The Trustees propose to submit that question to a fair trial."
The accommodation of "Specials or Irregular Collegiates" among Vassar's first students exemplifies the informed pragmatism of the founders. "There are many reasons," the Prospectus urged, "why, in the existing state of female education, and to meet the actual wants of women in our country, the College organization should be made as pliable as possible, and capable of adapting itself to a great variety of wants,—and why, therefore, the claims of the Regular Course should not be as rigidly maintained as is usual in colleges for young men. Many students will desire, for good reasons, to devote their whole attention to single branches, or to a limited number selected with some special reference…. There are scattered through the community a large number of ladies who, perhaps years ago, completed their studies at school without having satisfied their thirst for knowledge and improvement, and who would hail with joy an opportunity of supplying…deficiencies, of which the lapse of time has made them increasingly impatient, or which perhaps they find to be impediments to their success in life. Such will be specially welcome to the College." This category of study was, in President Raymond's words, "within clearly defined limits. It is denied to young persons in the regular process of their education, and granted only to those who have already attained some maturity and are sufficiently advanced to study to advantage in college classes. They must be over nineteen years of age, and must pass examinations in at least two thirds of all the preparatory and all the freshman studies."
Not envisioned in the Prospectus, the status of "Regular Preparatories" was tightly constrained when Vassar opened. Intended for students over fifteen years of age who were pursuing studies preparatory to entering the freshman class and who had been satisfactorily examined in English grammar, arithmetic, geography, and United States history, preparatory enrollment was allowed "only so long as the accommodations are not required" for Regular Collegiates or Specials or Irregular Collegiates.
Toward the close of the second year of the college's existence, 1866-67, the 116 Regular Collegiate students, about one-third of the total, were arranged in the traditional classes: 45 were freshmen; 13 were intermediate between the freshman and sophomore years; 17 were sophomores; nine were intermediate between the sophomore and junior years; 18 were juniors; and Maria L. Dickinson, Elizabeth L. Geiger, Harriette Warner, and Helen D. Woodward discovered they were graduating seniors. One hundred sixty-five were Special or Irregular Collegiates, and 71 were Regular Preparatories.
The graduating Class of 1868–the year when Vassar "fully attained a collegiate character," President Raymond said in 1873–included 19 more of the first students, and a year later, in 1869, an additional 25 from that first group graduated, while nine more were listed as non-graduates of that year, indicating that they had left the college. The Class of 1870 held 11 graduates from that first year, along with 17 other first students who were listed as non-graduates. Two more women out of the first students graduated in 1871, with 2 others listed as non-graduates for that class. Other women from the original class list graduated after 1871, such as Mary Carrington Raymond '73, who entered the college in preparatory courses at the age of 14. As nearly as can be determined, of the 116 Regular Collegiate students, 63 eventually received the Vassar bachelor's degree.
The Students
Class of 1867
Maria Loraine Dickinson '67 was one of four students in Vassar's first graduating class in 1867. Born on October 26, 1843, in Detroit, to Moses Field Dickinson and Maria Loraine Wesson, Dickinson was brought up in an educational environment. A graduate of the Amherst Academy in Massachusetts, the predecessor to Amherst College, her father had taught school briefly in his home town, Petersham, Massachusetts, before beginning a career in sales. Moving to Detroit in 1831, he established a partnership in copper and hardware merchandise and invested in real estate, retiring in 1852 as a wealthy community leader. The previous year he had been an underwriter of Miss Sarah Hunt's Select School for Girls which Maria and her sister attended, and he later led the effort to organize Detroit's school district number 5. Subsequently, a Detroit school was named the Dickinson School in recognition to his support of education.
Having "signed an agreement" to attend college together after completing their preparatory courses in 1863 and having heard of the proposed female college in Poughkeepsie, Maria Dickinson and her high school "seatmate," Harriet Warner, made inquiries about its status, but only received word back that buildings were not yet ready for use. A similar inquiry in 1864 met with a similar response. The two waited patiently in Michigan, taking one-year English courses and other preparatory classes, and in June 1865, notices were sent to them that Vassar Female College would open in September. A 1915 Vassar Miscellany article suggests that Dickinson may have been the first student admitted to Vassar because "the official printed letter bears the date July 19, 1865." "The long delay had whetted, rather than dulled, our appetites," Dickinson recalled, "and our parents thought well of the venture, so formal applications were made, and we carefully followed all directions to would-be students. Meantime Hattie Warner had made ready for college, and rooms were reserved for three of us together."
Dickinson described her first days at Vassar at the annual luncheon of Associate Alumnae in Cleveland, Ohio, in February 1913. She arrived at Vassar's gates with her fiancé, Thomas Stanley McGraw, at the age of 22. She was greeted by the Lady Principal, Hannah Lyman, and the other teachers who showed her to room 23 in Second South. (Dickinson kept the little scrap of paper with information about her room she found on her door that day, donating it to the Alumnae Historical Museum in 1914.) After moving in, Dickinson recalled, she walked to the Observatory to meet the renowned astronomer Maria Mitchell, whom she described as "severely plain in mien, manner, and attire, grandly handsome."
Dickinson's fellow classmates—the "more than three hundred female persons ranging between fourteen and twenty-four, or more, years of age" who were "mostly strangers to each other and to the teachers" quickly united—founding of the Philalethean Society in their first public meeting, participating in the first Founder's Day and the Thanksgiving and Christmas celebrations—all Vassar traditions still alive. In a letter to the Warner sisters in December 1866, Dickinson recounted her daily activities including an evening sleigh ride into town with some professors. In this letter, it is clear that the students and teachers during these first years were very close, and spent a great deal of time together. Dickinson wrote, "Friday morning [Hannah Lyman, the lady principal] spoke to us and said she wanted us to feel as if we were visiting our aunt…and that Miss Miner and Miss Gran were not corridor teachers but our cousins."
After graduation, Dickinson returned to Detroit with her husband, where the two remained until their deaths. Thomas McGraw had served in the Civil War in the Sixteenth Michigan Infantry of the Army of the Potomac. While Dickinson was away at Vassar, he started in business in the family firm, A.C. McGraw & Company, wholesale dealers in boots and shoes, where he worked as a partner until 1911, when he retired. They had two sons together, Stanley D. McGraw and Sanborn Tenney McGraw—the latter named after Vassar's first professor of natural history. Dickinson returned to Vassar for the Fiftieth anniversary and helped establish a gift of $1,867 to start a flag fund so that "the Star-Spangled Banner might always wave over Vassar."
Maria Dickinson McGraw died on March 24, 1920, after a prolonged illness, at the age of 77. In April, the first dean of the college, Ella McCaleb '78, paid tribute to her in the Miscellany News, "This year at Commencement some of us will greatly miss a friend who has seldom failed in many years to be present at that time…McGraw was a noblewoman, capable, warm-hearted, open-minded, and her rich human qualities and broad interests gave her a wide circle of friends. May we cherish and use her heritage of inspiring love and loyalty to our college!"
Elizabeth Louise Geiger '67 was remembered in the Vassar Miscellany shortly after her death in 1903 by her classmate Maria Dickinson McGraw '67: "…as quiet and reticent in after life as she had been when in college. So unobtrusive and modest had she been that her brilliant scholarship was all unsuspected until the first definite classification [the determination in 1867 that, after two years, she was a graduating senior] was made."
Born in Washington, Pennsylvania, and a resident of Marion, Ohio, for most of her life, Elizabeth came to Vassar in the fall of 1865, apparently well-trained in classical languages. The following year she worked as a "student-teacher" of Latin and Greek, supplementing the teaching of Professor of Ancient and Modern Languages William L. Knapp, the youngest member of the original faculty, while pursuing work towards her bachelor's degree. Receiving the degree in 1867, she continued to teach at Vassar, leaving at the end of the 1868-69 academic year.
In 1874, she married Dr. William R. McMahon in Marion. The following year she received the M.D. degree from the Homeopathic Medical College of St. Louis, Missouri, and as "Mrs. Dr. McMahon," according to The Marion Star, she practiced medicine in Marion up until her death in January 1903. Her two sons predeceased her. In her will, she bequeathed to Vassar her library and a scholarship fund preferably for the benefit of the daughters of physicians. "Her generous and valuable legacy to the college," Maria McGraw wrote, "will serve to keep her name in grateful remembrance."
Harriette Anna Warner '67 was born on August 7, 1845, in Burlington, Vermont. Along with Maria Dickinson, she attended Miss Sarah Hunt's Select School for Girls in Detroit, Michigan, and was one of the first class of women to be admitted, in 1863, to the city's only high school, Capitol High School. Her mother, Harriet B. Leach married her father, William Warner, a graduate of Middlebury College, in 1842. An executive in the railroad business, he moved his family to Detroit in when Harriette was ten years old, engaging first in the lumber business and later the iron industry. The president of the Detroit Bridge and Iron Works Company, he died in 1869 while superintending the construction of an iron bridge across the Mississippi River in Quincy, Illinois.
After for two years of preparatory study at Kalamazoo College, "Hattie" entered Vassar in 1865, along with her sister, Martha Spooner Warner '68, and her high school classmate, Maria Dickinson. The valedictorian of Vassar's first graduating class, she was also the first Vassar graduate to be elected to Phi Beta Kappa—albeit retroactively, when, in 1898, the honor society established its first chapter at a women's college. Maria Dickinson recalled being summoned along with Warner in May 1867 to President Raymond's office, where he told them he considered the two of them the true graduating class, since Miss Geiger had been a teacher and Miss Woodward had been at Vassar for only the current year. Dickinson also conceded that the valedictory, "being universally held the greater honor, belonged properly, too, to Miss Warner, for she was by far the better scholar."
In 1868, Warner moved to Hannibal, Missouri, where her brother William was in the mercantile business and where she taught mathematics. In 1870, she married her brother's partner and brother-in-law, William Melancthon Bishop. William Bishop died of blood poisoning in April 1878, at the age of 31, and Harriette returned to Detroit with her three children, William Warner, Helen Louise and Elizabeth Loraine.
Bishop taught mathematics and served as grade principal at Detroit Capitol High School (Detroit Central High School after 1896) from 1878 until 1914. She also presided over a household that included, in addition to her three children, her stepmother, Fannie Warner, and her younger sister, Martha, whose activities were constrained by a back injury. According to her son's biographer, Claud Glenn Sparks, in Doyen of Librarians: A Biography of William Warner Bishop (1993), "By word and example Harriette Bishop encouraged her children to pursue broad intellectual interests. She led them to respect meticulous scholarship, influencing all three, directly and indirectly, to concentrate their learning in the traditional area of classics."
Her son William received a bachelor's degree from the University of Michigan in 1892 and a master's degree in arts from that university the following year. A former superintendent of the reading room at the Library of Congress, he served for many years as librarian of the University of Michigan. Bishop's daughters, Helen Louise and Elizabeth Lorraine Bishop graduated, Phi Beta Kappa, from Vassar in the Class of 1897. Louise received a master's degree from Michigan in 1904, after studying at the American School of Classical Studies in Rome, and Elizabeth received a master's degree from Vassar in 1898, took graduate work at the University of Chicago and was a professor of Latin at the Western College for Women in Oxford, Ohio.
A frequent visitor to Vassar, Mrs. Bishop connected the past with the present in remarks at Commencement in 1912. Speaking for the three surviving members of the four-member Class of 1867 and claiming the alumnae attendance trophy—"there being 75% of the original class and 100% of the survivors in attendance," noted The Vassar Miscellany—Bishop said, "We are thankful that we belong to a pioneer band, that we have taken part in the organization of Philaletheis, in the formation of the Students' Association…. No material advances would compensate for the first gathering of girls, and the expression on Matthew Vassar's face at that time, or for our intimacy with Maria Mitchell. With love for the past, joy in the present, and hope in the future, we welcome 1912."
Mrs. Bishop and Martha Dickinson McGraw, carrying their class's banner, joined President James Monroe Taylor to lead the procession at the celebration of Vassar's 50th anniversary in 1915. At the celebration of the college's 75 anniversary in 1940, she joined President MacCracken on the stage of the Outdoor Theatre. "Somehow," noted the Vassar Quarterly, "she symbolized the whole history of the college. Erect and indomitable at the age of 94, she addressed the great assembly. Everyone could hear her. The ovation she received was tremendous." Harriette Warner Bishop died on April 15, 1944, at the age of 98.
Helen Douglas Woodward '67 was born in 1843 in Plattsburgh, NY, the daughter of Judge Jonathan Douglas Woodward, a distinguished jurist, and Helen Platt Woodward, a descendant of the founder of Plattsburgh. A student between 1835 and 1836 of Emma Willard's Troy Seminary, she was educated largely at home, attending Vassar only during the 1866-67 academic year before graduating with the first graduating class..
In 1884, she received a master of arts degree from Cornellcum laude, submitting a thesis entitled "Isis in Classical Religion and Classical Art," and she graduated from the Classical Course at Plattsburgh Normal School in 1897. Isis in Classical Religion and Classical Art was published by Cornell University in 1893. A teacher and principal of the high school in her native city for 36 years, she maintained ties with Vassar. She joined her classmates Maria Dickinson McGraw and Harriett Bishop Warner at Commencement in 1890 and again in 1897. On June 10, 1912, she joined her two classmates again in a recapitulation of the college's first Commencement, each graduate reading or reciting from memory her part in the program. Miss Woodward read her poem, "The Divinity of Color."
Helen Woodward died on October 28, 1941, a few days before her 99th birthday.
Class of 1868
Mary Lavinia Avery '68 was born on February 6, 1848, in South Glastonbury, Connecticut, the only daughter of Alfred Avery and Lavinia Dexter. Both sides of her family had a long New England lineage, and her father was a partner in Avery, Cecil & Butler, a wholesale dry goods firm. Avery filled her personal life with her love of books and her faithful devotion to her mother. Writing in January 1898 in Pratt Institute Monthly, she observed, "Thus guarded, the lesson of reverence for books may do its perfect and lovely work. It becomes an act of homage to the value of the author's achievement, or to that of the artists or craftsmen who have given his thought a fitting shrine. 'I could kiss you for the way in which you handle those books,' said an old man to a child who in turning over his treasures showed the reverence that she felt. And when all is said, too much of reverence is in this rough world far better that too little or none at all." Avery is the little child in this anecdote, and this love of books and words led her to many different experiences.
Avery attended private schools in Orange, New Jersey, and New York City and took private lessons conducted by her brother-in-law, Professor Allen S. Hutchens of the Wayland Academy, a Baptist men's school in Beaver Dam, Wisconsin.
Entering Vassar at sixteen, she graduated three years later. Avery returned to Vassar in 1873 to serve as a "critic" for the junior class in composition in the English department taught by Truman J. Backus. In this role, she conducted practical drills in logical and rhetorical methods and provided criticism of student essays before their submission. In 1877, she appeared in the published list of "Officers of Government and Instruction" as a teacher of English Composition.
In 1878, her father's illness forced Avery to resign her position and move to Wisconsin, where he had lived since 1868. While caring for him, Avery chaired the English department in the normal school at Whitewater, Wisconsin. Alfred Avery died in Baraboo, Wisconsin, on April 11, 1880, at the age of 83.
Although she frequently returned to the East for alumnae and other events Mary Avery stayed on in Whitewater until 1887, when she joined the editorial staff of the Century Dictionary and Cyclopedia, then in its first year of preparation by the Century Company of New York under the direction of the Yale University philologist William Dwight Whitney. With over 500,000 entries, the dictionary was one of the largest encyclopedic dictionaries of the English language. Avery's work focused on the definition of literary works and their illustration from quotations ranging from Middle English to the present day. The work's first edition appeared serially between 1889 and 1891, and Avery was one of three women recognized by Professor Whitney in its preface.
Mary Avery described her work on the dictionary in "The Making of the Century Dictionary," in the Vassar Miscellany in November 1895. Prefacing her account with a quotation from Robert Louis Stevenson, "We live in an age when people prefer a definition to any quantity of fruit," Avery said that the common notion that "your dictionary-maker creates and controls your language and its laws, seems impossible to root out of the ordinary mind." But, she claimed, his "true province" is as "a sworn witness and recorder of usage, good or bad." Besieged with requests to insert into the dictionary a brand-new term which meets "a long-felt want," to remove potentially offensive words, and to draw lines between "meaningless and empty slang" and "that which is classic," the lexicographer's work, she said, "cannot be performed as drudgery; it must become a labor of love."
Offering examples of the kinds of search to which such love can lead—including a meticulous tracing of the word "toilet" through the centuries—Mary Avery pointed out that "in an age when new words spring up in the field of science from one hour to another, and new meanings develop on older stocks, no plan of treatment, no care of detail can meet every emergency." Yet for those who work in the literary and linguistic field, "the opportunity for new revision and improvement is their dearest wish."
Avery's work as a lexicographer led to several literary friendships, including that with the American poet, critic, and editor James Russell Lowell. The two had a half-personal, half-official correspondence in which Avery suggested edits to Lowell's work, and Lowell, according to a contemporary biographer, always wrote her name "out full length" because it was "so 'liquidly musical' that it runs in his memory 'like a brook.'" In 1903, Avery donated her collection of letters from Lowell and from other authors such as John Ruskin and George William Curtis to the Vassar Library.
In 1892, Avery became a lecturer in literature at the School of Library Training at the Pratt Institute where she taught English composition, gave lectures on English and other literatures to the School of Library Training, and edited the Pratt Institute Monthly. Students spoke highly of her teaching, and one student said she "had the gift of imparting interest and enthusiasm, and of setting up for her hearers a permanent standard by which to judge of the value of the writings that should come under their notice in the future." During this time, Avery also wrote occasionally for the New York Evening Post.
In 1898, Avery left the Pratt Institute to join the staff of the New York Public Library, at the Lenox library building, as classifier and cataloguer of its music collection. Unfortunately, Avery became very ill, forcing her into the General Memorial Hospital of New York for two years. Once it was evident the disease could not be eradicated, Avery removed to a private hospital in New York where she died on January 25, 1904.
Throughout her post-graduate years, wherever she lived or worked, Avery remained engaged with Vassar through the alumnae association and through frequent contributions to the Vassar Miscellany. Serving in 1872 as editor of the "Alumnae Department" of the Miscellany, she later represented the college at meetings of the Association of Collegiate Alumnae, founded in 1882 by Marion Talbot, later the dean of women at the University of Chicago, and her mentor, Ellen Swallow Richards '70. When President James Monroe Taylor was offered the presidency of Brown University in 1899, Avery drafted the alumnae letter the Board of Trustees urging his retention and declaring that President Taylor would not find anywhere else "a field more worthy of his efforts, needing him more, or more likely to yield at least measurably satisfactory rewards in the years to come." Persuaded by this and other entreaties, Taylor remained at Vassar.
After her death, a tablet was placed in her honor in the Chapel and the Pratt School of Library Training erected a memorial book-case that contains a hundred books of which she was most fond with an inscription from "The Marriage of Cupid and Psyche" by Charles Sayle: "Here is a book made after mine own heart. Good print, good tale, good picture and good sense. Good learning and good labor of old days."
Anna Louise Baker '68 was born in Norwalk, Ohio, the only daughter in the four children of Daniel Albert Baker and Harriet Vandercook Baker. Her brothers were Charles, Daniel, Jr., George Griswold and Frederick, and she had a half-brother, Charles, from her father's earlier marriage. Descended from a Montville, Connecticut, family, at the age of eighteen her father and her uncle, Dr. George G. Baker, settled around 1829 in Norwalk, in the "Fire Lands" area of the Connecticut Western Reserve. Her father worked at first for the recently established postal service. He later worked in the mercantile business, and in 1840, after serving as County Auditor for ten years, he retired to his farm and raised prize-winning livestock. Eventually turning to banking, he and his brother founded the First National Bank of Norwalk, of which he was president at the time of his death in 1882.
Nothing is known about Anna's preparation for her study at Vassar. In 1915, The Firelands Pioneer, published by the Firelands Historical Society, recalled that "As a girl she was very attractive and agreeable." During her time in the college, she adopted the name "Annie." Graduating from Vassar in 1868, she married James Franklin Brooks and moved to California, where they lived first in San Diego and later in Sacramento. They had four children: Thomas Knowlton, Agnes, Harriet Louise and Mary Ysabel. Annie Baker Brooks remained connected to the city of her childhood, annually subscribing the "The Alert Club," a community service and social club founded during the Civil War.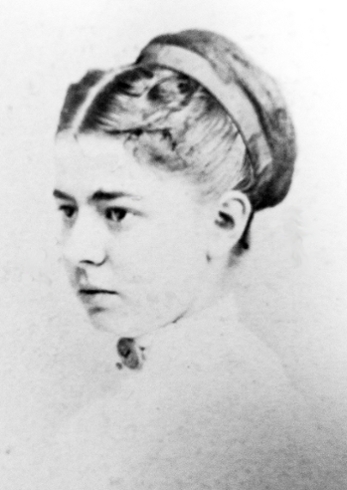 Unable for health reasons to attend the 65th reunion of the Class of 1868, in 1933, along with her classmate Martha Warner '68, Annie Brooks sent a reminiscence of their Class Day and of interrupting, with "Bella Carter," a meeting of the trustees in the Library in Main Building, in order to get the spade used by Matthew Vassar in breaking ground for Main. "Mr. Vassar," she recalled, "left his position behind the desk where he was presiding and asked us what we were doing. I replied that we had come for his spade and explained for what purpose it was to be used viz.: the planting of our oak. He expressed himself as both pleased and honored by our selection and with a few words wished us success and returned to his desk. We held our rehearsal and upon returning to the college with the spade, were met at the entrance by the overwhelming news of Mr. Vassar's sudden death. It seems he only pronounced the opening sentence of his address when he was fatally stricken with paralysis. Without doubt, we two girls were the last students to converse with our honored Founder.
"We went through with our Class Day and Commencement ceremonies, but with a devastating sense of bereavement and loss. Annie Baker Brooks, '68"
Elizabeth Reynolds Beckwith '68 was born January 16, 1845, in Stissing, New York, the oldest child of George Beckwith and Abigail (Abbie) Eliza Thompson, who were married on January 17, 1843. Beckwith had eight younger siblings: Emma (1847); Mary G. (1849); Clarinda L. (1849); Sarah C. (1851); Clara (1853); Asa (1864); Edward; and Nathan E. (1870). She grew up in the small Dutchess County village and taught in the district schools before coming to Vassar at the age of 23, the first in her family to go to college.
One of six graduates appointed to present essays at Commencement, Elizabeth Beckwith graduated with the Class of 1868. She continued her education with graduate summer classes in Latin and Greek in Ithaca, New York, and taught briefly in the high school in Freeport, Illinois, from 1871 to 1872.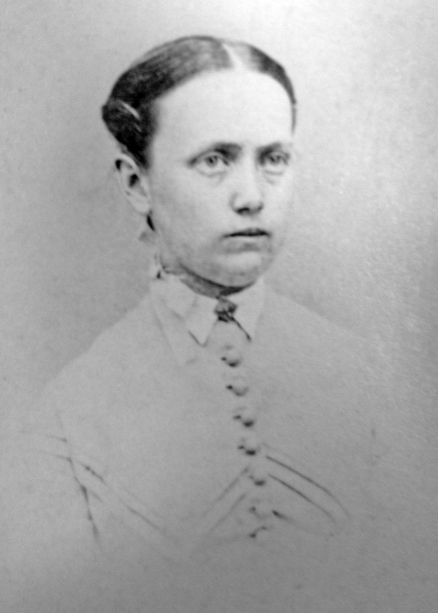 Returning to the East, she moved to New York, teaching at a public school from 1874 to 1877. In June of that year, Beckwith joined the Normal College of the City of New York—after 1914, Hunter College—as a tutor in Latin and Greek. She maintained ties to the college, returning in 1885 for the third reunion of the Class of 1868 and again for Commencement in 1890, 1897, and 1911.
Forced to retire in 1908 owing to a broken hip which left her incapacitated for the rest of her life, Elizabeth Beckwith returned to Stissing to live with her brother Asa. As her health permitted, she participated in the activities of the Dutchess County Historical Society and was a devoted member of the Baptist Church in nearby Bangall. She died on January 18, 1929, two days after her 84th birthday from a stroke believed to have been brought on by the sudden death of her brother Asa three weeks earlier. "The many floral attributes," her obituary noted, of her funeral, "expressed the esteem in which she was held."
Sarah Louise Blatchley '68 was born June 6, 1844, in Madison, Connecticut, the daughter of Mary Ann Robinson and Samuel Loper Blatchley. Educated in the public school of North Madison, her father was active in the insurance and mercantile fields, but particularly in real estate. He moved his family in 1866 to the Fair Haven area of New Haven, where, in a partnership with his sons, Charles C. and Samuel R., he was instrumental in the development of several horse railway lines. S.L. Blatchley and Sons were influential in the development and building of the Grand Avenue and Chapel Street bridges in the city. Samuel Blatchley also was senior warden of the Grace Episcopal Church for twenty years.
Sarah's education began in New Haven where she completed the year-long classical course preparatory for admission to Yale, to which she brought a natural aptitude for languages. At Vassar Sarah Blatchley immediately distinguished herself as a student even as she was described by her classmate, Sarah Glazier, as "so unassuming." Outside the classroom, she expressed, Glazier recalled, "the power of her personal bearing. Only those who remember the 'sweetest eyes were ever seen,' the witching charm of the irregular but delicate features, and the lovely expression always animating them, can realize how, without any commanding grace of form or feature she yet commanded all who came within her influence, even though they knew but partially the soul within."
Although she described herself as not naturally adept at mathematics, she studied astronomy for three years with Maria Mitchell, where she excelled because, her friend said, "she would shrink from no labor in order to gain results she believed best; and yet while we ordinary plodders were painfully evolving a knowledge of 'micrometer measurements,' 'collimation errors' and all the prose of instrumental astronomy, she delighted in 'sweeping for comets,' and from those lonely vigils upon the housetop would gather fancies, which, woven into the web of her deeper thought, would produce a fabric whose wondrous sheen called attention to its strength as well as its beauty." Part of her hard work could be contributed to the high esteem in which she held Maria Mitchell. Home for Christmas in 1865 she wrote, on December 28, to her classmate Isabel Treadwell, "Miss [Mitchell], I do love so much, it will always be one of my happy memories that she kissed me goodbye – when I had reached home at last – of course it was a very ordinary thing – but then I did not expect it from her. She would have done it to any of her class of course as she did to me." Both she and Sarah Glazier were members of "The Hexagon," Maria Mitchell's first astronomy class.
Sarah also became known for her talents as a poet. When it had been decided that Vassar's college colors should be rose and gray, "for no reason," her classmate Sarah Glazier observed, "except as a pretty combination," Blatchley wrote a poem about the colors, containing the earliest implication of their traditional significance—the dawn of women's education breaking through the gray of women's intellectual life:
Our morning dawneth on the hills,
A great and glorious day ;
We take our colors from the East,
The Rose and Silver-gray.
The twilight with its dimming stars
Transfigured by his ray,
Brightens before the rising sun
To Rose and Silver-gray.
The old, the darkened skies of night,
Our night, are passed away,
And 'gainst their gloomy background gleam
The Rose and Silver-gray.
So, fair dawns morning on our hills
And bright shall be the day;
We take our colors from the East.
The Rose and Silver-gray.
Excelling at Vassar both socially and academically, Sarah Blatchley was elected president of the Philalethean Society, Vassar's first student organization, founded in 1866, for '67-8.
Graduating from Vassar in 1868, she stayed in touch with the college, returning several times to speak and to read her poetry. In 1869 she delivered an address on "individuality" to Vassar students in which she called for each person to allow her soul to develop individually without prejudice. Sarah Glazier described the complexity of her presentation: "one of audience remarked, 'it was a string of pearls,' intimating that it was beautiful but disconnected. Her imagination so warmed whatever she was considering that she sometimes failed to make clear the cool logical plan of her argument. The plan was not wanting, however, as those knew who closely analyzed her productions. In fact, she was keenly alive to logical defects in thinking." Sarah Blatchley maintained her interest in astronomy, travelling in 1869 and 1870 to Iowa and Delaware to watch a solar eclipse with groups organized by Maria Mitchell. During this period she also studied German and Sanskrit. "Her mind was deeply religious, and her faith in God great" Glazier recalled, " It seemed to us who knew her power, as well as the loving nature which could not but constrain others, that God had in her a fit instrument of good, in a wider field of usefulness than she had yet known."
In the winter of 1870, Sarah Blatchley grew ill with a lung congestion, from which she failed ever to recover, despite her hope and optimistic spirits. From Savannah, she wrote to Sarah Glazier, in December 1870: "l am trying to conquer. I am decidedly better; I can walk two miles without trouble, and have breath enough to take singing lessons. I am reading D'Aubigne's History of the Reformation, to keep me out of mischief. I sing a little, I practise a little, but I accomplish a great amount of nothing during the week." Again, in June, '71 she wrote, "I am strong, and brown, and rosy, and hope after a while to get rid of my morning cough;" and the following February: "If I can trust myself, I am getting well, slowly, surely, completely, and I will not lay one straw in the way." She spent some time in Florida and then travelled by steamer to California, admitting, after the prolonged sea voyage, "there was not much left for me to come to San Diego, and I do not sit up all day, but am improving slowly."
Gradually, her illness got the better of her, and by the end of February her spirits had changed: "I am really an invalid in earnest." Sarah Louise Blatchley died in San Diego, at the age of 27, on March 13, 1872. "One who was then near her," Sarah Glazier wrote, said that 'the last three weeks she suffered greatly from restlessness and nervousness. She bore it with the utmost sweetness and patience. When I talked to her of the great change that was coming, she expressed perfect resignation to the will of God, but would believe she should get well. Finally we told her there was no hope. I expected it would be a great shock to her, for I knew she had always had a morbid dread of death, but it seemed to be good news. I shall never forget the lovely expression of her face, as she received it. She passed away about six o'clock, as quietly as a child going to sleep. There was the most rapt, beautiful look in her eyes,—she seemed to see into the other world."
Julia Electa Bush '68 was born March 6, 1844, in Turin, New York, the daughter of Horace Bush and Alma Abigail Mott. Her early life was spent in the West until her father died in 1856, after which her mother brought her to Lyons Falls, New York, where she spent the rest of her childhood. She was educated in Utica, New York, prior to entering Vassar, where she was a member of Vassar's first class of students.
Graduating from Vassar in 1868, Julia Bush taught Latin in private schools in Elizabeth, New Jersey, Wilkes Barre, Pennsylvania, and New York City for many years. On June 7, 1894, she became Julia Bush Merriam, the second wife of Clinton L. Merriam, a New York businessman, banker, and former Republican Congressman (1871-75), whose wife, the former Caroline Hart, had died the previous year. They were married at "Homewood," Mr. Merriam's country estate in Locust Grove, NY. After their marriage, they spent much of their time in New York City where Mr. Merriam continued his business career. They later returned to Locust Grove to live.
After her husband's death, on February 18, 1900, while en route to Washington, Mrs. Merriam lived in Italy for a few years, returning to the United States just before the World War. In 1917 she moved to Watertown, where she was a member of both the Episcopal church and the Trinity church. She spent her winters in Washington and New York City.
On February 19, 1928, at the age of 85, she was struck and instantly killed by an "automobile truck" at the corner of 72nd Street and Madison Avenue in New York City. Three weeks before, she had come to New York City for a reunion and convention of Vassar alumnae and to see "The King's Henchman," an opera by Edna St. Vincent Millay '17 and Deems Taylor. While in the city, she had lunched with Vassar alumnae at the Biltmore and had tea with old friends at the home of Blanche Ferry Hooker '94. She was believed to be the oldest living Vassar graduate. "An informal service," Vassar Quarterly reported the following July, "was held in New York and many of her intimate friends were present. Her body was taken to Lyons Falls, New York, for burial."
Described in the Vassar Quarterly at the time of her death as "a gifted artist…possessed of a brilliant intellect," Julia Bush Merriam was a painter. She produced original paintings and also meticulous copies of famous works. In her will, she left two of her paintings to Vassar, a copy of a Madonna by Bellini and an unframed copy of a Botticelli. A painted frame was made by a student in the Yale School of Fine Arts for the Botticelli copy, and the paintings were eventually hung in the tower room of Alumnae House.
Isabella Carter '68 was born in Chicopee Falls, Massachusetts, on November 8, 1849. Her parents were Eliza Harriet Bayley Carter and Hon. Timothy Walker Carter, a Chicopee businessman and banker who served as a representative to the Massachusetts Legislature in 1847 and 1848, as a member of the Constitutional Convention of 1853, and as a state senator in 1860 and 1861. Isabella attended Farmington Academy in Connecticut from 1864–1865, before enrolling at Vassar when the college opened in September 1865. She graduated in 1868 and was a preceptress at the Ithaca Academy in Ithaca, New York, for a year. After this, Carter returned to Vassar for a Master's degree in Arts, specifically Greek and German, which she received in 1872. Two years later, she married David Prentice Rhoades and moved to Syracuse, NY, where the couple stayed for the remainder of their lives. A Cornell graduate, David Rhoades was a commercial traveler, merchant, and manufacturer of paper lanterns and novelties. They had two children, Mabel Carter and Sumner, both of whom attended Syracuse University. Mabel also received her Ph.D at the University of Chicago.
In Syracuse, Carter was one of the founders of the Central New York branch of the American Association of University Women, serving later as president of the organization. She also served many years on the municipal committee of the Council of Women's clubs, now known as the Syracuse Foundation of Women's clubs. With her husband, she was a charter member of the Current Events club at Syracuse University. She attended East Genesee Presbyterian church and was active in the affairs of the congregation for many years. She was also a member of the Roman Ramblers, an organization that coordinates walking trips in communities. Carter also became well known for her poem entitled "Columbine for Columbia," which appeared on January 16, 1893, in the Springfield Republican. The Massachusetts Horticultural Society attributes this poem as the first suggestion in the East to elect the columbine as the national flower.
Her husband died on July 6, 1919, and Isabella Carter Rhoades passed away six years later, on November 18, 1925. In her obituary, the local newspaper identified her as "a pioneer in the movement for higher education and advancement of women."
Achsah Mount Ely '68 was born in Manalapan, New Jersey, on November 10, 1845, to Joseph Ely and Catharine Conover Ely. She had 3 sisters: Mrs. Henry J Mount of Freehold; Mrs. John Dey of Windsor and Miss Katherine Ely. For her early schooling, Ely attended the Young Ladies' Seminary in Freehold, NJ, a progressive institution founded in 1844 that offered an advanced curriculum and was headed by Amos Richardson, a graduate of Dartmouth College. In 1865, she arrived at Vassar College with the other 352 first students. Graduating in 1868, she served two years as lady principal at the Connecticut Literary Institute at Suffield. A few years later, she moved to New Jersey to become lady principal of Peddie Institute—originally, in 1864, Hightstown Female Seminary—in Hightstown, where she remained until June 1876.
Achsah Mount Ely '68
In the summer of 1876, Ely moved to New York City and a teaching position at the Normal College of the City of New York, founded in 1870 as a women's college for training teachers and, much later, called Hunter College. During these years, Ely also did graduate work at Newnham College in Cambridge, England, and at Chicago University, a Baptist college established in 1856 as a collegiate and vocational institution, which had admitted women in 1872. In 1887, Ely returned to Vassar as head of the mathematics department, succeedingPriscilla Braislin, a longtime teacher at the college who had been appointed Professor of Mathematics in 1875.
Calling Vassar home once again, Ely remained a powerful influence at the college until her death on December 13, 1904. She expanded the offerings of the mathematics department providing, as she put it, the "elastic character of the curriculum of the college" with "modern mathematical thought." When students studied solid analytic geometry, which required the visualization of algebraic surfaces, Ely obtained funds to buy the plaster-of-Paris models manufactured by Ludwig Brill and Martin Schilling in Darmstadt, Germany, which are still displayed in Rockefeller Hall. This collection, used in classes through the 20th century, is now rare and valuable. The first PhD in mathematics joined the department under Ely's leadership. Having studied in Berlin and in Paris before coming to Vassar in 1894, where she taught until 1902, Ruth Gentry (1862–1917) held the first PhD awarded to a woman by Bryn Mawr College, in 1896.
The lack of a doctorate did not impede Ely's own research, in which she engaged throughout her teaching career. Joining the international conversation, she attended the second International Congress of Mathematicians in Paris in the summer of 1900, one of the seven women among the 250 international mathematicians. A member of the American Mathematical Society from its founding in 1891 as the New York Mathematical Society, she was an active member of the Alumnae Association of Vassar College, from its earliest days. Ely served as chairman of its first committee formed to secure alumnae representation on the Board of Trustees. From 1885 to 1890, she was chairman of the committee which secured the funding for the Alumane Gymnasium (1889), later named Ely Hall in her honor. Under her leadership the alumnae raised $20,000 by 1887 to construct the building, enabling Vassar to keep pace with more recently constructed facilities at Smith and Wellesley. Ely also served as an officer of the A. C. A. and as president of the Vassar Association from 1894 to 1896. On December 13, 1904, Achsah Ely suffered a fatal heart attack while walking on campus. The announcement of her death in papers from The New York Times to The Los Angeles Herald brought expressions of love and loss from many quarters. The Indiana Vassar Club, for example, called her "one who united rare qualities as a woman and as an instructor." President James Monroe Taylor said: "She became an inspiration to many students to pursue a life of study. She has gone, but she has left a heritage full of encouragement, a lesson to all of you who are in the college today." Students also published a tribute to her in The Miscellany News, saying, "She gave eighteen years her best abilities to Vassar College with untiring devotion and was in her teaching and personal influence a power on the side of a truly liberal education and the widest opportunities for women." Professor of Astronomy Mary Watson Whitney '68, Professor of Chemistry Le Roy C. Cooley and Professor of English Laura Johnson Wylie '77 said in a faculty "memorial minute," "By the death of Professor Achsah Mount Ely, Vassar College has lost a valued and efficient friend, who for many years both as alumna and officer has been devoted to the interests of the College and has worked for its advancement with zeal, enthusiasm, and large-minded generosity, and who has represented to a pre-eminent degree and productive helpfulness that has characterized their activity."
Gertrude Frothingham '68 was born in Caledonia, New York. Her father was Thomas Frothingham, a Union College graduate and an attorney, and her mother was Mary Ann Smith. The great-granddaughter of Captain Henry Dodge, who fought in the Revolutionary War, she grew up in Caledonia, entering Vassar as a member of its first class. Less is known about her than about some of her classmates. However, Sarah Glazier noted in a letter to a former student, Isabel Treadwell, on January 26, 1867, Gertrude's abilities as a performer and a musician, talents she would enjoy throughout her later years. "Miss Frothingham was the leader," Glazier wrote, "of a fine orchestra of combs, and with her gray wig, swallow-tailed coat, and white beaver, was quite too much for the gravity of beholders.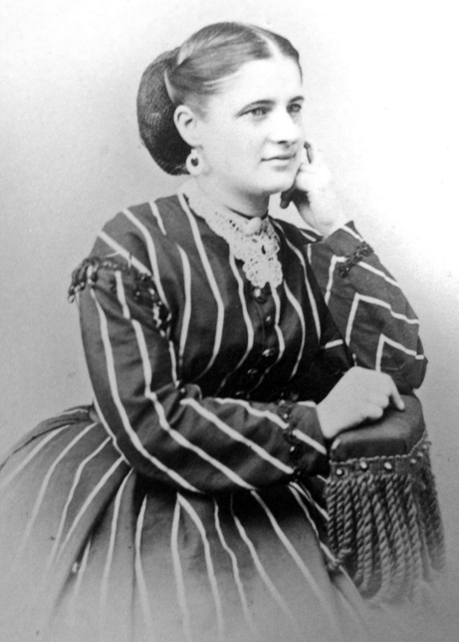 After graduating from Vassar, Frothingham married Arthur Radcliffe Williams on December 24, 1868, the couple had four children Gertrude, Arthur, Willard, and Frances. Gertrude Frothingham Williams taught in Petroleum Center and Oil City, PA, from 1869 to 1875. The family then moved to Rochester, New York, where she was a music teacher, soloist, accompanist, and organist. For Vassar's 42nd Commencement, she played the processional for the Class of 1908 on the Chapel. In 1911, she accepted a position as teacher and accompanist in New York City. Her husband died in 1884, at the age of 39, and she died February 3, 1921, in Brooklyn, New York, of pneumonia.
Sarah Mariva Glazier '68 was born in Hartford Connecticut on March 7, 1846, the daughter of Phebe Walker and Carlos Glazier. She graduated from Hartford Public High School in 1863 and was that venerable school's first female graduate to go to college. Entering Vassar as a member of its first class and inspired by Professor Maria Mitchell, she became deeply interested in astronomy. She wrote home enthusiastically about her studies and her classmates saying, "'Our class' are getting quite attached to each other—they are most all very nice girls. We sit together at the two central tables…and are given a great many privileges."
Sarah Glazier was also very active in the evolving campus life. A letter at Christmas-time in 1867 asked, " have I told you that we have a new society-room, in the gymnasium building? With my usual luck I'm on the committee, so that I've had a siege getting carpet for it, a stage made, etc. Julia Bush and I went to N.Y. expecting to see the exact thing we wanted, in the first store we entered, but instead spent two days 'tramp, tramp', in the midst of a drizzling rain. — That expedition, and the subsequent tribulations in getting it down have given me an intense disgust for carpets."
After graduation, she taught at the Auburndale Female Seminary in Massachusetts in 1868, and at Chelsea High School from 1869 to 1871. She also worked as an assistant teacher at Carter High School where the principal wrote that she " "at once gave abundant evidence of her skill and ability as a teacher." She received her master's degree from Vassar in 1972, and, with the granting to Vassar in 1898 of its first chapter at a women's college, Sarah Glazier attained membership in Phi Beta Kappa. She also studied under professors at the University of Chicago and Harvard before those universities admitted women.
She also was the Chloe Pierce Professor of Natural Science at the new Buchtel College in Akron, OH, in 1873-74. She served as the chair of natural science at Vassar in 1874 and was the first professor of mathematics and astronomy when Wellesley College opened in 1875.
Sarah Glazier married the Reverend John Mallory Bates in Hartford on October 10, 1876, Rev. Bates was a graduate of Trinity College. He held a master's degree from Trinity and had studied for the priesthood at Berkeley Divinity School in Middletown, CT. Between 1883 and 1886, the couple lived in Topeka, KA, where Rev. Bates was chaplain and headmaster at Bethany College. They subsequently moved to Nebraska and in 1903 settled in Red Cloud, NE, where he was rector of Grace Church. They had three sons and a daughter, Luke Manning, George Whitney, Sarah Louise, and Carlos Glazier.
Later in life, John Bates undertook studies in ornithology and botany, publishing On the Sedges of Nebraska in 1914. The rector of her church in Red Cloud, he also was, according to the author herself, one of two models for the title character in Willa Cather's Death Comes for the Archbishop. Sarah Glazier Bates also continued an active and engaged life, studying Political Science, European History, and Constitutional Law as a graduate student at the University of Nebraska and working as an active member of the D.A.R, the Association of Collegiate Alumnae, the Graduate Club of the University of Nebraska and a supporter of the Lincoln Matinee Musical.
Sarah Mariva Glazier Bates died on October 13, 1919, in Lincoln, Nebraska, and was buried at Spring Grove Cemetary in her native Hartford.
Clara Eaton Glover '68 was born in Waltham, Massachusetts, on June 20, 1845, the daughter of Jesse Glover, Jr. and Martha Bartlett Glover. Her father, a descendant from one of the founding families of Massachusetts, was a machinist by trade. In 1860 he moved his family to Lawrence, Massachusetts, where he became the superintendent of the Pemberton Mill, a textile mill rebuilt after the disastrous collapse in 1860 of the original building, in which some 150 workers died. Thanks in part, probably, to the early efforts of Horace Mann to reform education in Massachusetts, Clara attended the public school in Lawrence, which had been founded in 1848.
In 1865, at the age of 20, Clara Glover entered Vassar College as one of its first students. A woman who met her at this time described her as of medium height with gray eyes and curly brown hair—"not beautiful" but possessing a "gentle intelligent depth that attracted the attention of all who met her."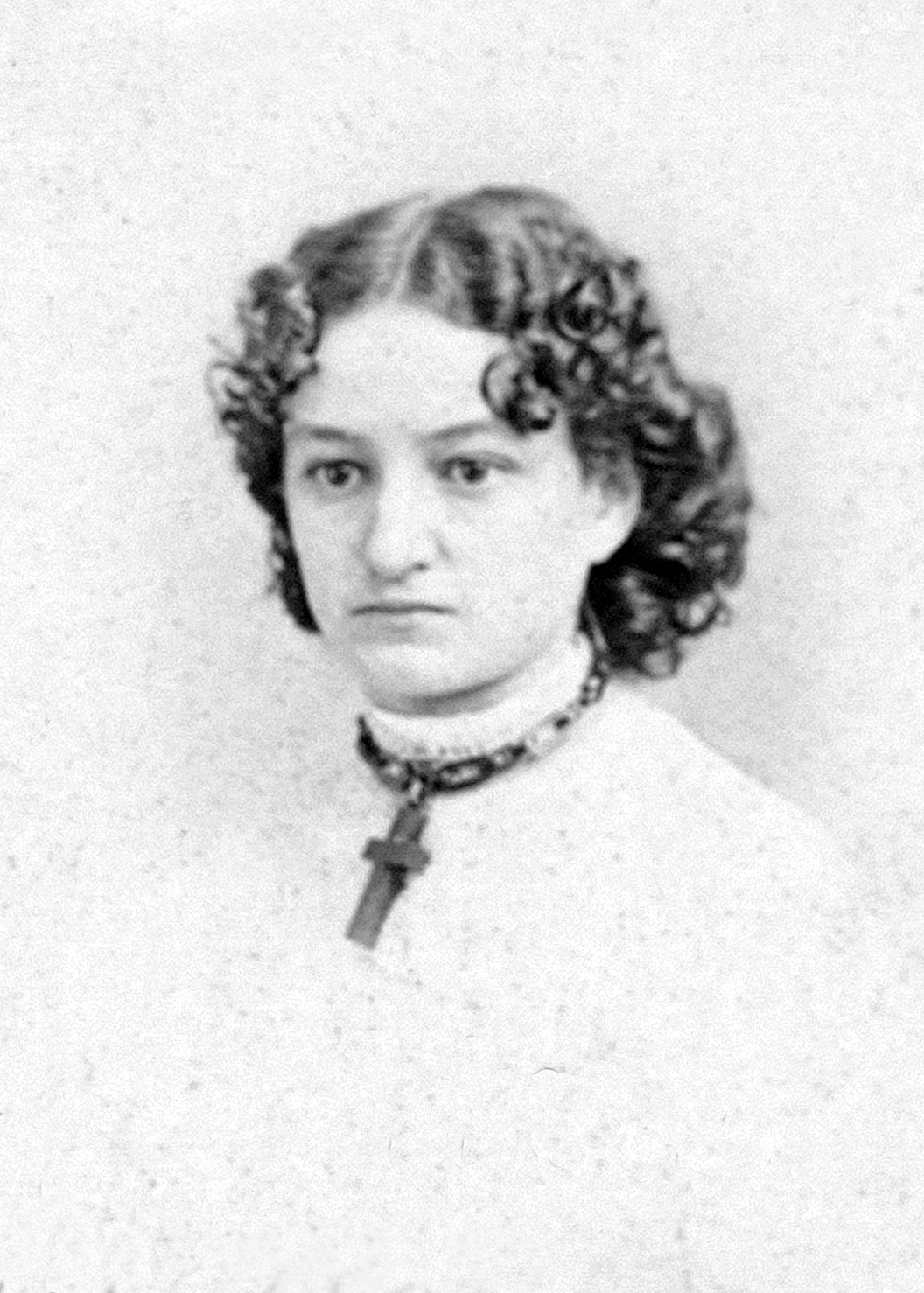 Her contemporary, Ellen Swallow '70, once noted in a letter home that "Vassar College is occupied by students not school girls," and Clara exemplified that distinction. A member of the "Hexagon," the six exceptional students who comprised Maria Mitchell's first group of astronomy students, Clara grew close to Professor Mitchell and her father, who lived with his daughter in the Observatory. After her graduation in 1868—for which she was one of six seniors chosen to deliver an address—William Mitchell wrote to a young Quaker friend "thou art quite right in supposing that I must miss the graduated astronomical class. It is a more severe experience than I had imagined it would be. Clara Glover and Mary Whitney especially, who had in a manner adopted us as step-parents, are a great miss to us."
After graduating, Glover returned to Lawrence, where she taught in the high school until her marriage, the following year, to Edwin Ginn, whom she had first met in the summer of 1866 when visiting a friend in a small town near Orland, Maine, where his family lived. A graduate of Tufts College in the Class of 1862, Ginn had entered college, as had Clara, at a somewhat advanced age, 21. Self-employed at first as a schoolbook contractor, when he met Clara he was beginning his career as an educational publisher. The couple married on September 11, 1869, and Clara immediately became engaged in her husband's developing business. Edwin had suffered in college from deteriorating eyesight, and according to her daughter-in-law, Clara was "very ambitious for her husband and did everything in the world to encourage him to equip himself. . . . Every evening, after they were married, she read aloud to him for as long as five hours at a time. This was the result of her determination that he read only the best literature."
Edwin and Clara Ginn lived in Boston for several years—at first, within walking distance of the publishing house. In 1890, the family—now including Jessie Bartlett Ginn (born 1872), Maurice Edwin Ginn (1875) and Clara Louise Ginn (1879)—moved to nearby Winchester, Massachusetts. A fourth child, Herbert, had died in infancy in 1876. Although she was heavily occupied with both family and her husband's business and was thus unable to attend the occasional reunions of the Hexagon, Clara Ginn maintained contact with Vassar, contributing, for example, to the Maria Mitchell Endowment Fund in 1889, and with some college friends, informing them of the family trip to Europe the same year.
Clara Glover Ginn died at her home in Winchester on October 17, 1890. She was 45 years old. Over the years, Edwin Ginn became one of the wealthiest men in Boston and was well known as a publisher, peace advocate, and philanthropist. The business he began in 1868, Ginn & Co., remained a foremost textbook publisher for nearly a century after his death, on January 21, 1914.
Mary Virginia Higinbotham '68 was born to Alexander Allison Higinbotham and Sarah Burgoyne Higinbotham on January 17, 1850, in the small town of Wyoming in Bath County, Kentucky. Among the first 353 students to enroll in the fall of 1865 at Vassar College, she was one of the two students from Kansas. The other student, Elizabeth Williams, lived next door to the Higginbothams' home at Fourth St. and Chestnut St. in Leavenworth. Both 15 years old, the two Kansans were among the group's youngest members. Both were also among the 62 entrants who graduated, over time, from Vassar—Ms. Higinbotham and Ms. Williams in 1868 and 1869, respectively.
Descended from established families in Virginia and Maryland, Mary's parents were married in Pendleton County, Virginia. They traveled westward to Bath County, Kentucky, where they settled in the tiny community of Wyoming, on the banks of the Licking River, where Alexander worked as a merchant. On January 17, 1850, Sarah gave birth to twins, Mary Virginia and Henry Clay Higinbotham. In about 1851 the family returned to Virginia, living for a few years in Hardy County, where two more children were born.
In 1856, Alexander Higinbotham and his four brothers moved to Kansas Territory as "Free Soilers," indicating their opposition to the expansion of slavery. The family settled in Leavenworth. By1864 a successful real estate broker and rising community leader, Alexander represented Leavenworth County in the railroad convention in Kansas City assembled, in light of the developing transcontinental railroad, to discuss the future of the Kansas Pacific line. In September of the following year, Mary Virginia arrived at Vassar.
After graduating in 1868 she returned to Leavenworth, where she was active in the community, serving as director of the Mercantile Library Association of Leavenworth and on the board of the Friends of the Protestant Orphan's Asylum. His business having flourished, in 1869 her father constructed a well-appointed home in Leavenworth which, some years later, was purchased by the restaurant and hotel entrepreneur Fred Harvey. Mary lived there until November 26, 1872, when she married Lucien Baker, a local lawyer who had been elected that year as Leavenworth's city attorney. Born in Ohio, Lucien had moved as a child with his family to Michigan, where he later attended Adrian College and, following in his father's profession, earned a law degree from the University of Michigan.
Descended from Silas Leonard, a Massachusetts militiaman in the Revolutionary War, Lucien's family was active in legal and political circles. His brother, John Harris Baker, served as a U.S. Congressman from Indiana and as a judge for the U.S. District Court of Indiana. Soon after Mary and Lucien's wedding, Lucien was appointed city attorney for Leavenworth, serving in that post for two years and then entering into private practice. He figured in a strange and well-publicized incident in 1880 when he was shot and seriously wounded by his own client. Leaving a court hearing, Baker's client, a newspaperman named Thomas C. Thurston, attempted to shoot a longtime rival, D. R. Anthony of the Leavenworth Times, hitting instead an associate of Anthony. Saying—according to The Ottowa (Kansas) Daily Republic—"I have shot the wrong man," Thurston fired again, hitting his lawyer. Lucien survived, but his health was irreversibly jeopardized. He nonetheless served as a Kansas State Senator between 1893 and 1895, and was elected to the United States Senate in 1895. Serving one term, between 1899 and 1901 he was Chairman of the Senate Committee on Civil Service and Retrenchment. Defeated in an attempt for a second term, he retired again to private practice, where he was joined by his son Burt in the firm Baker and Baker.
Mary Higinbotham Baker visited Vassar at least twice after her graduation, once when the Classes of '68 and '69 gathered to celebrate the 20th anniversary of their graduations at Commencement in 1889, and again in 1893 when she came to the college with her 17-year-old daughter, Mary, who attended Vassar for two years as a special student with the Class of 1897. Mary Baker married C. H. T. Lowndes, a U.S. Naval surgeon who served in Manila, spent 3 years on the staff at the Naval Academy, and eventually retired as a Rear Admiral. Their son, Charles Lowndes, graduated from Georgetown in 1923, received his law degree from Harvard in 1926, and served on the Duke University Law School faculty for many years.
In the last years of her life, Mary Virginia Higinbotham '68 was in very poor health. Between 1888 and 1903, she suffered at least three strokes which left her partially paralyzed. She died in Leavenworth on May 10, 1903, at the age of 53. Lucien Baker died on June 21, 1907.
Maria Louisa Hoyt '68, the daughter of Joseph Blachley Hoyt, Jr. and Catherine Krom Hoyt, was born May 6, 1847, in New York City. Among the 353 students first enrolled at Vassar when it opened, she and her younger sister, Frances Anna Hoyt, were among the 63 of those entrants who graduated with bachelor's degrees, Maria in 1868 and Frances two years later as the president of the Class of 1870.
Maria's father was a descendant of the original settlers, in the early 1600s, of Stamford, Connecticut, and her maternal ancestors were Dutch settlers in Ulster County in the Hudson Valley of New York State. A prominent tanner and leather merchant in the business founded in New York City by his grandfather, Maria's father served in 1865 in the Connecticut House of Representatives.
After graduation, Maria returned to live with her family at "Blachley Manor," the family home on Noroton Hill in Stamford. In 1870, she married Timothy Hopkins Porter, a Yale graduate and Wall Street banker and broker, who was 21 years her senior. Maria Louisa and Timothy Porter had 3 sons: Louis Hopkins; Blachley Hoyt and Arthur Kingsley. As had their father, all three attended Yale.
Maria Hoyt Porter's sons all met with dire calamities. In the summer of 1895, Louis and Blachley, hiking with a friend in the Grand Canyon, took refuge from a storm under a rock ledge, which, struck by lightning, fell on them. Blachley was killed instantly, and the other two hikers suffered severe injuries. Louis partially recovered and graduated from Yale the following spring. In 1933, Arthur Kingsley Porter, an art historian, medievalist, and professor of art history and medieval studies at Harvard, disappeared while walking along the seacoast in Connemara. His wife believed he had accidentally fallen into the sea, but there were also speculations that, reportedly troubled with depression, he had committed suicide or intentionally disappeared to start a new life in Europe. Kingsley Porter's house in Cambridge, left to Harvard University, later became the president's house. Arthur Kingsley Porter had been eight when his mother died, in Stamford, on December 13, 1891, at the age of 44. He and his mother, Maria Louisa Hoyt Porter'68, are buried in Woodland Cemetery in Stamford, Connecticut. Timothy Hopkins Porter died in Stamford on January 1, 1901.
Arthur Kingsley Porter, the youngest son of Maria Louisa Hoyt Porter, was eight when his mother died, in Stamford, on December 13, 1891, at the age of 44. Timothy Hopkins Porter died in Stamford on January 1, 1901.
Cornelia Porter Leland '68 was born in Bath, New York, on November 11, 1844, to Ziba A. Leland and Abigail Porter Leland. A native of Chester, Vermont, her father attended the University of Vermont and Middlebury College and later studied law in Schenectady and Utica, New York. A judge in Steuben County, New York, he served two terms in the New York State legislature. Cornelia had one brother, John Porter Leland. Living at the family home on the Hudson River in Mechanicville, New York, she attended the newly established Mechanicville Academy before joining the first students at Vassar.
In a ceremony on October 23, 1889, in Waterford, New York, Cornelia Leland married the Rev. Robert Scott, an Episcopalian minister from Beatrice, Nebraska. A graduate in 1865 of Princeton Theological Seminary, Rev. Scott had come to the Beatrice congregation in 1886. Among his accomplishments was the erection, in 1889, of the highly lauded new Christ Episcopal Church. The Scotts moved from Nebraska to DeLand, Florida, in 1891, and between 1909 and Robert Scott's death, in October 1915, the couple divided their time between DeLand and a home in Williamstown, Massachusetts. The Woman's Who's Who of America (1914-15) notes that Cornelia "was a member of the Vassar Alumnae Association, the Woman's Auxiliary to the Board of Missions, the Nantucket Maria Mitchell Association, Daughters of the American Revolution and the Woman's Club in Deland, FL."
Cornelia Leland Scott maintained an interest in her college, attending Commencement in 1908 with several classmates, forty years after their own. She also took part with four of them—"fifty per cent," Vassar Quarterly noted, "of its present membership"— in the class's "almost impromptu and wholly delightful" 55th anniversary in 1923, the highlight of which was the unveiling of a memorial for their "much loved and honored classmate, Mary Watson Whitney." Cornelia Leland Scott died, after a prolonged, debilitating illness, on February 21, 1933, in her 89th year.
A Vassar friend, Jessie F. Wheeler '82, remembered Cornelia Leland Scott in Vassar Quarterly at the time of her death: "With her niece, Miss Abbie Porter Leland of New York City, she made her last trip abroad in the summer of 1925. She was always a keen student of affairs, had a brilliant and versatile mind, a remarkable vocabulary and a beautiful voice."
Mary Prentice Rhoades '68 was born on April 6, 1848, in Geneva, New York, the daughter of Dr. Sumner R. Rhoades, a physician, and his wife, Susan Prentice Rhoades. Before coming to Vassar, she prepared at the Ithaca Academy, some 50 miles from her home, and at the time of her attendance the largest school of its type in New York State. After graduating from Vassar as class salutatorian, she taught for three years at Ithaca before assuming a teaching position in Columbus, Ohio.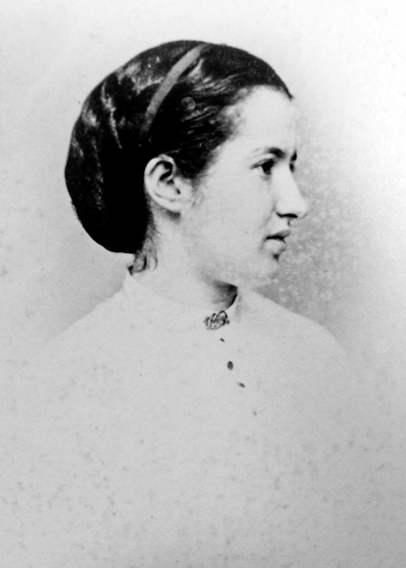 In 1873 she returned to New York State, where she taught in Syracuse until 1879, when she moved to the recently established normal school in Brockport, New York. At Brockport, she was a preceptress and teacher of English until her retirement—with certification under the state's new retirement annuity plan— in 1911. At her retirement, she was lauded as "very close to the hearts of the alumni of the institution, to all connected with the school and to the townspeople." The Brockport Republican also noted, "Her influence over the students of the normal was very great, and she commanded their love and respect." Mary Prentice Rhoades died in Syracuse on July 6, 1919.
Shortly after her graduation Mary Prentice Rhoades was one of three alumnae selected in June 1871 for a committee charged with communicating the wishes of alumnae for representation on the college's board of trustees, a wish that was realized in 1883. In later years she was a frequent visitor to Vassar and a distinct presence among the alumnae. Along with several classmates, she attended Commencement every few years, and at the alumnae luncheon in June 1908—40 years after her graduation— reported Vassar Miscellany, she "told of Vassar as it was when she was in college."
Mary Reybold '68, the daughter of William Reybold and Beulah Compton Reybold, was born February 5, 1845, in Delaware City, Delaware, just south of Wilmington on the Delaware River. Of German origin, Mary's paternal ancestors immigrated to Philadelphia in 1777. The family later moved to Delaware, where her grandfather, Philip Reybold, was known as "Major Reybold" after his service in the Delaware Militia during the War of 1812. His son William, Mary's father, also a prosperous farmer, was the president of the family steamship company and served on the board of the Delaware City National Bank.
Mary Reybold grew up on her parents' farm near Delaware City. At Vassar, she was a member of the self-defined "Hexagon," the six members of the Class of 1868 who had studied astronomy with Professor Mitchell in each of their years at Vassar. After graduation, she and Louise Parsons '68 were appointed to a year of postgraduate study at Vassar, its first two "resident graduates."
In the summer of 1869, Mary travelled to Iowa as one of Maria Mitchell's observers of the solar eclipse that would occur in August. Professional and amateur astronomers from all over the country were headed for the Midwest, causing Professor Mitchell to muse that all observatories "must have been left undirected." Setting up their camp on the grounds of the Burlington Collegiate Institute, two students were stationed at each of the 3 telescopes with a seventh positioned on top of the College building to observe general effects. Mary Reybold was stationed at the 2½-inch Dolland telescope, where she made notes during the eclipse.
Mary lived with her family in Delaware City until her marriage there on January 22, 1872, to Dr. Stiles Kennedy, a physician from St. Louis, Michigan. Born in Kentucky in 1838 and schooled at the Milford Academy before earning his medical degree from the University of Pennsylvania in 1859, he had served as a physician in the Confederate Army during the Civil War. Sent in September 1862 by General Lee to Frederick City, Maryland, under a flag of truce after the Battle of Antietam, Kennedy assisted Union physicians in treating the wounded of both sides.
Stiles and Mary Kennedy were remembered, in The Biographical Memoirs of Gratiot County [Michigan] (1906), as "long . . .known for their enterprise, integrity and wealth." In addition to his support of several successful local industries, Dr. Kennedy published widely on medical topics. Mary bore three children: William, on May 28, 1873; George, on May 23, 1876, and Mary, on March 17, 1878. A few days later, on March 22, 1878, Mary Reybold Kennedy died, at the age of 33 and only 10 years after her graduation—the 5th member of her graduating class to pass away.
Mary Reybold's notes on the Iowa eclipse, appearing along with those of the other Vassar observers in Reports of Observations of the Total Eclipse of the Sun, August 7, 1869 (1877) bordered on the poetic:
"Body of moon of inky blackness. Cusps sharply defined.
The light did not appear like ordinary sunlight diminished.
4h 54m Venus seen.
During totality two intensely bright lines were seen across the corona to moon's disc,
one from the right and one from below, as seen by the naked eye.
Fire flies seen. Birds flew around as if lost. Crickets chirped."
The daughter of John Stagg and Maria Tice Stagg, Maria Stagg '68 was born in Paterson, New Jersey, on August 4, 1845, the sixth of seven children, three of whom died in early childhood. Descended from 17th-century settlers of New Jersey, Maria's father was an active builder and craftsman, praised in his obituary as "an industrious man and an upright citizen." Having prepared to join the first group of Vassar students at the Amenia Seminary for Young Women in Amenia, New York, Maria entered Vassar in September 1865, and graduated with the Class of 1868. Maria married her second cousin, Canadian businessman Hugh O. Fulton, on October 18, 1871. The couple lived briefly in Meaford, Ontario. Returning to Patterson in 1873, the Fultons had three children: John, born in 1872; Anna, (1875); and Kate Stagg Fulton (1880), a member of Vassar's Class of 1903.
Maria Stagg Fulton returned to the campus from time to time. At Commencement in 1908, she observed the 40th anniversary of her graduation with seven classmates—Louise Parsons Eveleth, Cornelia Leland Scott, Mary P. Rhoades, Martha S. Warner, Sarah Glazier Bates, Isabella Carter Rhoades, and Elizabeth R. Beckwith. Mrs. Fulton's husband passed away on Oct. 26, 1894, and she died of bronchial pneumonia in Paterson General Hospital, at the age of 74, on January 16, 1919.
At the time of her death, Vassar Quarterly reported that Maria Stagg Fulton was "said to be the first woman of her city to become a college graduate,"
The daughter of William Warner and Harriet Leach Warner, Martha Spooner Warner '68 was born in Burlington, Vermont, on July 15, 1847. In 1855 her father, a graduate of Middlebury College and an executive in the railroad business, moved his family to Detroit, where he co-founded the Detroit Bridge and Iron Works. With her sister, Harriette, known as "Hattie," Martha, called "Mattie," attended Miss Sarah Hunt's Select School for Girls in Detroit. They arrived in Poughkeepsie together on September 20, 1865. In the spring of 1867, Harriette was one of the four students identified when the new college had sorted out its students as graduating seniors. After a third year, Martha graduated with the Class of 1868. Their sister, Helen, who had joined them at the college in 1866, was also a graduate in '68.
Martha Warner's mother had died in 1859, and her father had remarried. A month after the sisters' graduation, a cascade of difficulties began for the family when William Warner, superintending the construction of an iron bridge across the Mississippi River in Quincy, Illinois, died in an accident on July 29. Martha, who had returned to Detroit, subsequently suffered a severe back injury that permanently limited her mobility, and the death in 1878 in Hannibal, Missouri, of Harriette's husband of eight years obliged her and her three children, William Warner, Helen Louise, and Elizabeth Lorainne, to return to Detroit. Hattie immediately began a quite successful career in teaching, and the oversight of the household at 74 Pitcher Street, including that of Martha's widowed stepmother, Fannie Warner, fell largely to Martha.
In November of 1911, Vassar Quarterly noted that Harriette was in her thirty-fourth year at Detroit Central High School and that Martha was president of Detroit's Wednesday History Club, treasurer of the Vassar Students' Aid Society and "home-maker for her sister and two nieces, who are all teachers." Mattie's other connections with the college ranged from her remarks in 1889 on early days at Vassar at the dedication of the Alumnae Gymnasium at Vassar's 25th anniversary to her visits, with other members of her class, to Commencement in 1897 and again at the 40th anniversary of her graduation in 1908. She was class secretary from 1922 until 1942 when the death in 1941 of Anna Baker Brooks left her the only living member of the Class of 1868. Harriette Warner Bishop died in April of 1944, and Martha Spooner Warner passed away on August 18 of that year.
In a reminiscence in Vassar Quarterly in 1889, Martha Spooner Warner offered perhaps the most personal and detailed account of the first students' first hours and earliest days at Vassar. Recalling how she and Hattie, "two girls, travel-worn and weary," alighted from the Albany train "to the platform of the Poughkeepsie station, and looked hesitatingly about them," she pictured the girls hurrying "into a crowded omnibus, and before they had had time to faintly gasp, 'Vassar College,'" finding themselves "forming parts of a procession stretching in broken lines from the railway station to the college entrance." Another student recollected, Mattie continued: "We drove up in an omnibus full of girls with their fathers and mothers. I wished I were anywhere else in the world. I never dreaded anything so much as I did getting there. We came in sight of the building, and it looked just like the pictures."
Mary Watson Whitney '68 was born in Waltham, Massachusetts, on September 11, 1847, the daughter of Mary Watson Crehore Whitney and Samuel Buttrick Whitney, a successful real estate entrepreneur. She attended public high school in Waltham and was a private pupil at a nearby Swedenborgian school. At Vassar, she was president of the math club, active in the croquet and chess clubs, a contributor to student publications and a performer in dramatic productions. "Her classmates," a biographer said, called her "Pallas Athena, Our Goddess of Wisdom." An editor of The Transcript, the first student journal, and president of the class in 1867, she was a member of the Hexagon, the six members of the Class of 1868 who studied in Maria Mitchell's astronomy courses in each of their Vassar years. Miss Mitchell's father, who lived with his daughter in the Observatory, confided to a friend shortly after her graduation, " to Mary Whitney is to be awarded the palm of unrivaled qualities."
Mary's father died suddenly on May 13, 1867, and, shortly thereafter, her elder brother Elisha, missing for months in the South Seas, was conclusively declared lost. After reading at Commencement an essay in German, "Verboten," Mary returned to Waltham to aid her mother with her three siblings. Teaching for a year in nearby Auburndale and joining Maria Mitchell's observers of the solar eclipse in Iowa in the summer of 1869, Mary accepted the invitation of Harvard College Professor Benjamin Peirce to study the algebra of quaternions and celestial mechanics over the two following years.
Mary Whitney returned to Vassar in 1872 to assist Maria Mitchell in determining the precise latitude of Vassar's Observatory with a zenith telescope loaned by the U. S. Coast Survey. When her sister Adaline, a Vassar graduate in 1873, studied medicine in Switzerland, Mary joined her and the family. In Zurich, she attended lectures in Synthetic Geometry and Celestial Mechanics.
Mary returned to Vassar in 1881, at the request of Professor Mitchell, whose health was waning. She shared in the teaching, oversaw the observations, and made sure that the time as read from the Observatory's astronomical clock was accurate to the second. Confident that the qualities of Vassar astronomy would be sustained, Maria Mitchell signaled her retirement in 1887 and conveyed her professorship to her former student in 1888. Whitney brought the Observatory's work in the greater world of science and scholarship.
In 1910, Mary Watson Whitney suffered a cerebral hemorrhage that left her partially paralyzed. In 1915— as had Maria Mitchell— Mary Whitney surrendered her post to a former student, Caroline Furness '91. In a memorial to her mentor, Furness quoted one of Whitney's Vassar classmates: "From the first day of her college life, she moved through her appointed orbit as serene and calm, and as true to the line as the stars she loved so well."
Mary Watson Whitney, her classmates, Sarah Glazier and Sarah Louise Blatchley, and the poet herself comprise the opening line of the verse Maria Mitchell wrote en route to New York City to say farewell to her departing students:
Sarah, Mary, Louise, and I 

Have come to the crossroads to say good-bye; 

Bathed in tears and covered with dust, 

We say good-bye, because we must; 

A circle of lovers, a knot of peers,

They in their youth and I in my years,
Willing to bear the parting and pain,

Believing we all shall meet again;

That if God is God and truth is truth,

We shall meet again and all in youth.
---
Related Articles
---
Sources
Prospectus of the Vassar Female College, Poughkeepsie, N. Y, 1865
John Raymond, A College for Women, in Poughkeepsie, N. Y., New York, 1873
Constance Mayfield Rourke, "Some Vassar Letters, 1865–1870," Vassar Quarterly, vol. vii, no. 3, 1 May 1922.
Vassar College Libraries Archives and Special Collections
---
GT, 2015, HK, CJ, 2016-17, DBB, 2017