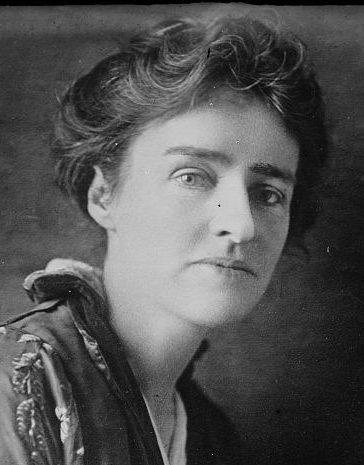 The letters that Jerusha Abbott, the protagonist of Jean Webster's Daddy-Long-Legs, writes to her patron vary from being comical to earnest. In one letter, Jerusha writes:
You never answered my question and it was very important. ARE YOU BALD? I have planned exactly what you look like—very satisfactorily—until I reach the top of your head and then I am stuck. I can't decide whether you have white hair or black hair or sort of sprinkly gray hair or maybe none at all. Here is your portrait. But the problem is, shall I add some hair?
And in another:
Don't you think I'd make an admirable voter if I had my rights?. . . This is an awfully wasteful country to throw away such an honest, educated, conscientious, intelligent citizen as I would be.
In both tone and theme, Daddy-Long-Legs and Webster's other works, such as When Patty Went to College and Dear Enemy, often reflected Webster's peculiar mixture of whimsy and activism. A "shark at English" and a prolific writer, she was also a suffragist and an active advocate of social reform for orphans and prisons. Her fanciful and charming personality, renowned among her friends at Vassar, became more widely appreciated through the popularity of Daddy-Long-Legs, which appeared in 1912 to wide acclaim and was later adapted for stage and screen.
Born Alice Jane Chandler Webster in Fredonia, New York in 1876, Webster came from a renowned family: her great uncle was Mark Twain, and her father was the publisher Charles Webster. She changed her name to Jean after becoming roommates with another Alice at the Lady Jane Grey School, a finishing school she attended for three years after graduating with a concentration in china painting from the Fredonia Normal School in 1894. The concentration in china painting, biographers Mary and Alan Simpson (Vassar's seventh president) point out, helped develop young Jean's skills in illustrating her works.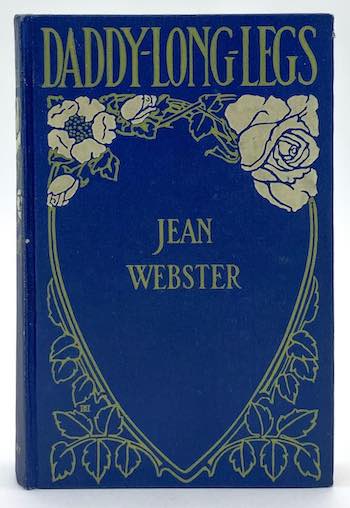 In 1897, at age 21, Webster entered Vassar. Webster had a wonderful time at college, and this experience supplied the material for her books such as When Patty Went to College and Daddy-Long-Legs. Her friend and roommate, the future poet Adelaide Crapsey, inspired and joined in many of the creative ventures, and her college life. Declaring English as her major, Webster studied literature, wrote plays, worked and published for the college journal (Vassar Miscellany), edited and illustrated the yearbook (Vassarion), and wrote a "chatty" news column for the The Poughkeepsie Sunday Courier. In school, Webster was reputedly a very "creative" speller. When a teacher once asked her for the authority of a misspelled word, Webster replied, "Webster," playing upon the dictionary of the same name.
Webster's other concentration was economics. She was inspired by Dr. Herbert Mills' course on "Charities and Corrections" and began work with the College Settlement House, a connection that lasted a lifetime. Webster demonstrated her social consciousness in other ways as well, rallying for the Socialist ticket for the presidential election of 1900. In a mock election at Vassar, she and Crapsey were the only two to vote for Eugene Debs, the Socialist candidate.
In her junior year she traveled to Italy, where she became friends with Ethelyn McKinney, whose brother Webster would marry. Upon graduating from Vassar in 1901, Webster moved to New York City, where she worked as a freelance writer for various New York magazines. Her first series of short stories were compiled into Webster's first novel, When Patty Went to College, published in 1903. Altogether Webster wrote eight novels, many plays, and several unpublished stories. Daddy-Long-Legs, the story of an orphan who is sponsored through college by an anonymous benefactor, was Webster's most popular work. According to Karen Alkalay-Gut, Webster's works, though light and witty, were subversive commentaries against the patriarchal Victorian society of the early 1900's when women still did not have the vote. Many of Webster's works addressed social ills of the day, such as the state of orphan asylums in the country. Daddy-Long-Legs directly challenged this issue; the promotion of Daddy-Long-Legs leagues and the sale of Daddy-Long-Legs dolls went towards placing orphans in suitable families.
An avid traveler, Webster visited many countries in her lifetime with her best friend, Ethelyn McKinney. Webster was secretly engaged to Ethelyn's brother, Glenn Ford McKinney, son of the oil magnate John Luke McKinney, for eight years; they kept the romance clandestine because McKinney was unhappily married. Finally obtaining a divorce, McKinney married Webster in 1915. Around this time Daddy-Long-Legs was touring across the nation to successful reviews, and Webster completed her final novel Dear Enemy, a sequel to Daddy-Long-Legs. Webster divided her time between New York City and a home on Tymor Farm, in Union Vale near Vassar College (her daughter eventually attended Smith). In 1916, shortly after giving birth to a daughter, Jean Webster McKinney, Webster died from complications of childbirth. She was 39, at the height of her success as a storyteller and social activist.
Webster's editor, Douglas Doty, described her as "an artist without the artistic temperament". Webster was renowned for her good humor, and her stories, even when addressing serious matters, were always accessible and keen, as were the quirky line drawings which often accompanied her work and became well loved in their own right.
---
Related Articles
External Links
The Project Gutenberg EBook of Daddy-Long-Legs, by Jean Webster
Digitized Books by Jean Webster (Library of Congress)
Sources
Alkalay-Gut, Karen. "Jean Webster". 6 July 2005. https://karenalkalay-gut.com/web.html
Simpson, Alan and Mary Simpson. Jean Webster: Storyteller. Poughkeepsie: Tymor Associates, 1984.
Webster, Jean. Daddy-Long-Legs. New York: The Century Co., 1912.
---
LM 2005