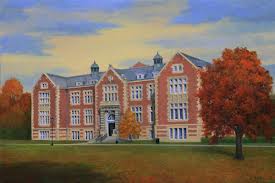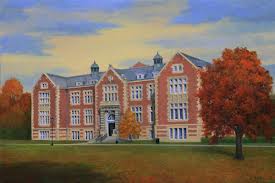 Rockefeller Hall (1897)
York and Sawyer
In the mid-1890s, as Vassar expanded its accommodations for students with what would become the first quad dorms, an acute need for more classroom and office space for professors also came to light. Meeting on June 12, 1894, the trustees acknowledged that "a building devoted to the purposes of lectures and recitations is the first great necessity of Vassar College," and they charged President James Monroe Taylor with raising the necessary funds. By the spring of 1896, Taylor had found a willing donor in trustee John D. Rockefeller, a previous supporter of campus projects. Four years earlier he had donated $35,000 for the completion of the first residential accommodations outside Main Building, Strong House, named for his daughter Elizabeth Rockefeller Strong, a former student. With the announcement of Rockefeller's pledge, in the amount of $100,000, the executive committee was authorized to begin work on the new recitation hall, along with the newly commissioned residence hall, Raymond House. The name "Rockefeller Hall" was decided upon the following spring and the building was completed by the fall.
Rockefeller Hall opened on Friday, November 19th, 1897, at a dedication ceremony involving musical performances, an address from President G. Stanley Hall of Clark College, the presentation of keys and the singing of an original dedication hymn, written for the occasion by Fanny Lee McKinney '98.
In his remarks, President Taylor noted, according to The Vassar Miscellany, "the total cost of the building had amounted to $99,998.75 thus coming cleverly within the limit set by Mr. Rockefeller." The donor was not able to attend the dedication.
Rockefeller Hall easily won the hearts of the Vassar community—a wry poem in The Vassar Miscellany described the building's benefits while hinting at limitations:
On the Vassar College campus
Stands a beautiful new hall,
 "To be used for recitations"
And for nothing else at all;
Not for class meeting or concert,
Not for party or for ball—
But to lectures and to quizzes
Dedicate we our new hall.
Rockefeller Hall was the first commission of Edward York and Philip Sawyer, two architects who left the New York firm of McKim, Mead and White in 1898 to form their own firm, York and Sawyer. Originally based on plans for a high school in Plainfield, New Jersey, which Sawyer described as a "compact classroom building with its lower story sunk to sill level to economize its height, its two amphitheaters superimposed in the rear, its classrooms ideally lighted," the Beaux-Arts design for Rockefeller was adapted to include a variety of English architectural elements.
The large windows of the building were representative of Tudor and Elizabethan styles, popular for new buildings on college campuses at the time in large part because the size of the windows meant that classrooms were illuminated by natural light. Georgian elements are present in the design of Rockefeller too, especially the thick columns and fanlights around the main entrance.
Rockefeller served the purpose of providing much-needed lecture space, but it also served another, even more important purpose—one more closely related to pedagogical innovations playing out at Vassar under President Taylor. Prior to the construction of Rockefeller, professors wanting to give students individualized conferences had to secure common spaces in Main, spaces that tended to be in high demand. Individual contact between students and professors was viewed as increasingly vital during Taylor's presidency, and Rockefeller, being the first building on Vassar's campus built solely for academic purposes, greatly enabled it.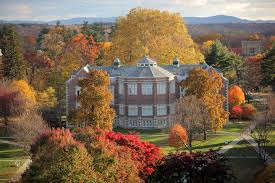 Many professors now had their own offices, making it easier for students to meet with them outside of class, and subsequent renovations in 1916 and 1940 served primarily to increase the number of offices in the building. A close relationship between student and professor, still an essential part of Vassar's mission as an institution, was an ideal that York and Sawyer's building helped greatly to foster.
York and Sawyer went on to design other buildings at Vassar, similarly specialized but in varied styles. These included: for the natural sciences, the Beaux-Arts New England Building (1900); the Georgian/Colonial revival infirmary, Swift Hall (1901); and two residences— Metcalf House (1915), a stylistic echo of Swift which housed the college physician, and the Tudor revival warden's house, Pratt House (1916). Rockefeller Hall, however, remains their first and grandest contribution to the College.
---
Related Articles
Sources
Daniels, Elizabeth. Main to Mudd and More. Poughkeepsie: Vassar College, 1996.
Van Lengen, Karen and Lisa Reilly. The Campus Guide: Vassar College. New York: Princeton Architectural Press, 2004.
Vickery, Margaret Birney, The Campus Guide: Smith College, New York: Princeton Architectural Press, 2007
The Vassar Miscellany, December 1, 1897
---
GM 2014