Herbert Elmer Mills was born August 8, 1861, to the Reverend Edward Mills and Esther Butterworth Mills in Salem, New Hampshire. While Herbert was still young, the Millses settled in Woburn, Massachusetts, where Herbert graduated with honors from Woburn High School. He then went on to the University of Rochester, earning his BA in history in 1883. After graduation, he taught history at the Collegiate Institute in Marion, NY, and Union High School in Palmyra, NY, where he met his future wife, Mary Louise Seamster. Throughout this time he continued his studies at Rochester and received his MA in 1887.
In 1888 Mills commenced his PhD work at Cornell University, where he was also employed as assistant registrar. His PhD thesis entitled "The French Revolution in Santo Domingo," completed in 1890, was the first-ever to receive a summa cum laude distinction from Cornell. Mills started teaching at Vassar, as an associate professor of history and economics, that fall. Economics was still a young field. Although Vassar had offered economics courses intermittently earlier, none had not been offered for several years before Mills was hired, and previously the subject had been covered by professors from fields such as English literature. Mills was not only Vassar's first economics professor, he was one of the first in the nation.
In 1893, Mills dropped "history" from his title and became "professor of economics," but it was not until the following year that he stopped teaching history completely. He went on to lead a distinguished career, publishing several economics textbooks and essays, including "Practical Economic Questions," "Labor Problems," and "Outlines of Economics." Over his 40-year tenure at Vassar, he taught nearly 6,000 students, including the classicist Elizabeth Hazelton Haight, the social reformer Crystal Eastman, author Jean Webster, the suffragist Inez Millholland, Katherine Blunt—a president of Connecticut College—and Ruth Taylor—a Westchester County Commissioner of Public Welfare. Though not as progressive as some of his students, Mills was against Prohibition and supported a woman's freedom to choose a career among the domestic, business, and professional worlds.
Mills was deeply involved in the surrounding community as a member (and often president) of many organizations, including the Dutchess County S.P.C.A and Child Welfare Board. He served as both President and Director of the Vassar Bank, Chairman of the Faculty 1914–1915, and President of the Poughkeepsie Board of Education from 1909 to 1911, when he resigned in protest over the hiring of an underqualified school nurse. Mills was modest about his many accomplishments; in 1928 he wrote to the Miscellany News of his recent activities, "I cannot give you any news about my prosaic life except that I was elected President of Vassar Bank this summer and I travel."
Mills was also a leader among the Vassar community. In 1914, in the interim period between the Taylor and MacCracken presidencies, along with the Trustees, a faculty committee governed the college. As chairman of the faculty committee, Mills was entrusted with making decisions normally reserved for the president. He maintained this position until Henry Noble MacCracken assumed his post as president of the college. In 1918, Mills served as director of the Red Cross Summer Nursing Camp at Vassar, which was founded to aid in the war effort. Under his direction over 60 instructors drawn a wide range of institutions, trained some 400 recent graduates of 117 colleges and universities.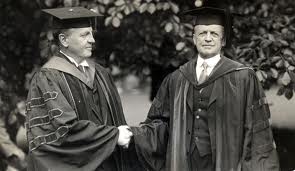 Upon Mills's retirement in 1931, a gate on the corner of Collegeview and Raymond Avenues was dedicated in his honor by the alumnae of the nursing camp and several private donors, including Mrs. Minnie Cumnock Blodgett and Julia Lathrop. A library fund of $700 was also set up in his honor by the classes of 1904 and 1930. Mills lived at 106 Academy Street in Poughkeepsie for sixteen years after his retirement, and he died on March 9, 1946. He was predeceased by his wife in 1930 and was survived by his son Harold and his brother Frank.
---
Related Articles
---
Sources
Obituary, NY Herald Tribune March 9 and 10, 1946
President MacCracken's Report to the College, October 1931
41st Annual Report 1945-6, Carnegie Foundation for the Advancement of Teaching
---
JLD, 2005