A novelist and wartime nurse, Mary Borden '1907 was renowned for her successful literary career and service during both World Wars. Born in 1886 in Chicago, Mary was the daughter of businessman William Borden, who had fortunes in real estate, mining, and dairy products. Her mother, Mary Borden, was a devout evangelical Christian.
In 1904, Mary attended Vassar, graduating in 1907 with a BA in English and Philosophy. According to biographer Jane Conway in A Woman of Two Wars: The Life of Mary Borden (2010), Mary "proved a diligent student, at times working to the point of exhaustion in her determination to excel. She had a strong competitive streak, demonstrated in her grueling preparation for her part in inter-collegiate debates…. This early training to argue on a wide range of issues was reflected throughout her life in her strongly held opinions and uninhibited outspokenness" (20). In addition to her participation in debate club, she was the president of the Dramatic Society. Despite her academic excellence, Mary had doubts about the direction of her life, as detailed in the letters she wrote to her mother. She contemplated, "Should one strive either all one's energy for perfection and development of one's mind, or should one, in fact, should I give up college as a temptation to over emphasizing the intellectual…" (20). In 1906, inheriting part of her father's fortune after his passing, she established the Borden Fund. The scholarship was allocated to a Vassar graduate to spend a year studying abroad so that she would gain experience in social responsibility.
Upon graduating from Vassar, she went on her own tour of the world, planning to visit missionary settlements and donate part of her familial wealth to them. In Japan, she founded a hostel for Japanese women students in Tokyo and then traveled to India in 1908. She settled in Lahore, where she met Scottish missionary George Douglas Turner and married him. She had three children with George Turner: Joyce (born 1909), Comfort (born 1910), and Mary (born 1914). In 1913, Mary and her family moved to London, where she entered the city's literary circle and befriended writers such as Ford Madox Ford, E.M. Forster, George Bernard Shaw, Ezra Pound, and the artist Wyndham Lewis. In 1912, she published her first book, The Mistress of Kingdoms, under the pseudonym Bridget Maclagan. According to her biographer, Conway, Mary later expressed regret about what she revealed about herself in her first novel, a semi-autobiographical story about an American heiress who rebels against her religious mother by studying English and philosophy. During this time, she joined the London Suffragette Movement and was placed under arrest after throwing a stone into the window of the Treasury Building.
Mary's life took a turn in 1914 with the outbreak of World War I. She signed up as a typhoid nurse in Dunkirk f or the London Committee of the French Red Cross despite having no experience. With her own funds, charity from friends and family members, and a fundraiser in the United States, she established a mobile hospital unit in Flanders in 1915. Soon after, she joined the Sixth Army, helping to install, finance, and run one of the most important military hospitals in the French Army in Bray-sur-Somme. To gather more funds and donations for supplies, she established the Borden-Turner Hospital Fund. She later received military medals for her bravery, and her experiences in the war inspired her future novels. In her autobiography, Journal Down a Blind Alley (1946), Mary wrote strongly about her time as a war nurse, stating, "I did not count the number who died as I knelt beside their stretchers. Great strong broken men who apologized in whispers for the trouble they gave in dying; slender boys whom I held in my arms while they cried for their mothers and who mistook me for some anxious woman I would never see; old patient humble men…who went quietly, so modestly; the French poilus of 1914-18" (10).
In 1917, Mary returned to London and divorced Douglas after falling in love with Brigadier General Edward Louis Spears, whom she met on the front. She married Spears in 1918, becoming embroiled in a tense custody battle with Douglas for her children. As Spears participated in the Peace Conference, they settled in Paris, where her home became a meeting point for writers, poets, artists, and politicians. She became acquainted with writers Noel Coward, Freya Stark, and Cyril Connolly, and during the interwar period, her fame as a writer grew. Her novel Jane Our Stranger (1923) was her first bestseller, receiving critical acclaim for its satirical depiction of American and French elite society. Mary's novels were often controversial due to their depictions of love affairs, divorce, and pre-marital sex. Her collaboration with renowned film-maker Alexander Korda was stopped due to censorship, and she became involved in a legal battle with the Catholic Herald for her portrayal of Mary of Nazareth. In addition, Mary never shied away from expressing her political opinions and she continually campaigned for social equality and opportunities for women. In a 1924 interview with the New York Times, she criticized British Prime Minister Ramsay MacDonald and the Labour Party, arguing that the party "has done nothing to relieve distress among the unemployed." She proceeded to criticize America's treatment of women in comparison to that in England, stating, "A wife to an Englishman is a pal and their life is more normal than over here. The Englishwomen do everything the men do, and so they do not have so much time for bridge and clothes." Her novel Flamingo (1927) reflected her struggle between pursuing a serious career and caring for her family, and in 1929, she published The Forbidden Zone, a collection of poems and short stories that reflected her experiences during war in a style reminiscent of Walt Whitman.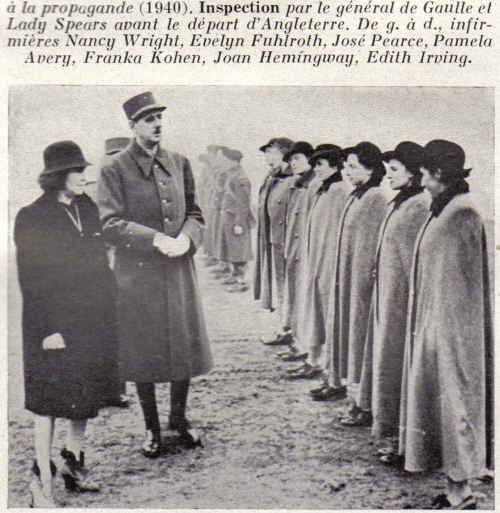 With the onset of World War II, Mary once again returned to the front as a wartime nurse. She set up another field hospital in Lorraine, France, and then established the Hadfield-Spears Ambulance Unit with donations provided by her friends Sir Robert and Lady Hadfield. In 1940, she narrowly escaped France during the German invasion and retreated to England. The next year, she set up the Hadfield-Spears Ambulance Unit with the Free French in the Middle East, where her husband served as first British minister to Syria and Lebanon. Mary continued writing late into her life and supported other young writers. She died in 1968 at the age of 82 and was buried in Warfield, England.
SOURCES
"A Short Biography of Mary Borden." Mary Borden.com. http://www.maryborden.com/Biography/biog.html.
Conway, Jane. A Woman of Two Wars: The Life of Mary Borden. Munday Books. 2010.
"Mary Borden." Poetry Foundation. https://www.poetryfoundation.org/poets/mary-borden.
"Mary Borden." World War I and America. http://wwiamerica.org/mary-borden.php.
"Says British Make the Best Husbands. New York Times. August 20, 1924. https://www.nytimes.com/1924/08/20/archives/says-british-make-the-best-husbands-mary-borden-the-novelist-and.html.
---
MT, 2021